GCC Exchange Certified with Dun & Bradstreet Ratings
GCC Exchange is UAE based money transfer company achieved Dun & Bradstreet Ratings.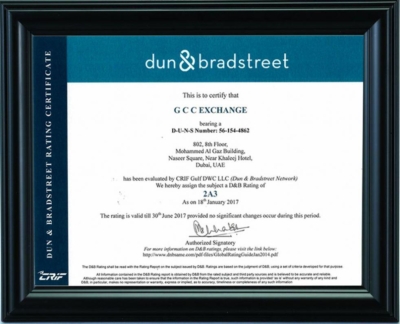 Press Release (ePRNews.com) - DUBAI, UAE - May 01, 2017 - GCC Exchange is keen to announce that we have successfully received the Dun & Bradstreet rating; this rating adds an extra star to our credibility.
The quality control measures taken to provide exceptionally well services have been paid off. In fact, it has uplifted our determination to perform even better.
"Achieving these ratings was one of our goals. Since our objective is to lead in the sector of remittance and foreign exchange business, these ratings would be adding a feather to our cap. It is surely going to aid in our business growth." – Worded Mr. Mukesh Himatlal – General Manager,
GCC Exchange.
What are the benefits of Dun & Bradstreet Rating
This is one of the crucial ratings that companies are willing to achieve. This report helps showcase our business strength credibility and capability on a global front.
1. Credibility – Availing this rating signifies that your company is financially stable. The financial system standards are measured through this rating. The companies that excel in this arena are to financially credible.
2. Perceived as high standards – The companies that successfully gain this certificate –
GCC Exchange is one of them – such companies have perceived the ones with higher stands.
3. Recognised Universally – This rating owns a universal recognition. This rating monitors over 150 million businesses worldwide. GCC Exchange is one of them.
GCC Exchange has always looked ahead with an aim of setting a benchmark in the industry with respect to the quality. Availing this rating from the authorities has strengthened our service system and motivated us in performing excellently well.
About Dun & Bradstreet:
Established years back Dun & Bradstreet ratings are vital in symbolizing how credible and dependable a commercial is. It is a business services company, which provides certifications and ratings. Acquiring Duns & Bradstreet ratings or certifications signify the reliability of the company. Headquartered in US this company provides commercial data of businesses. The data and analysis incorporated by Duns and Bradstreet for a plethora of commercials allow in building a trustful relationship between the companies and customers.
For more information log on to http://www.dnb.com
About GCC Exchange:
Known for providing prime solutions for money transfer, remittance and foreign exchange.
GCC Exchange has clients across the globe. Owing to the commitment the brand shows towards their work they constantly contend to serve the clients better than expectations. Established in 2005 GCC Exchange has come a long way and yet there is a lot to cover that the company believes in. Providing exceptionally well services with hassle free procedure and transparency has been the fundamental objective of GCC Exchange.
For more information log into www.gccexchange.com | http://www.gccexchangeblog.com
Source :
GCC Exchange