Generate-Barcode.com releases Visitor Management Software to design ID card or gate pass for visitor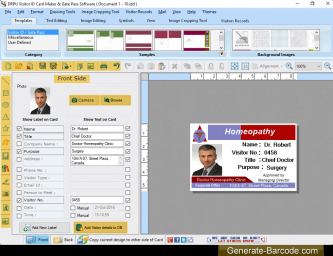 Press Release (ePRNews.com) - GHAZIABAD, India - Feb 16, 2017 - Generate-Barcode.com is leading worldwide Information Technology based Company in India. Company is specialized to develop Barcode Maker Software and Card Designing Software for various businesses as well as home users. Most company or organizations today need Visitor ID Card Maker Software to make visitor ID card or gate pass for many purposes such as manage visitor records, identification and security. So Company developed affordable and reliable Visitor Management Software with advance technology to create visitor gate pass ID card for visitors and add all visitor information to database for future reference.
Visitor gate pass management software facilitates to manage visitors records and provide option to export all visitor records in excel file format with all attributes. Software allows user to easily search specific visitor details according to Visitor ID Number, Visitor Name, Company Name, Phone Number, Email Address, Date Range and other attributes. Visitor ID card maker software provide facility to design visitor gate pass or identity card in different size, shapes, color, background and various designing objects. Software has inbuilt various drawing tools including Text, Line, Ellipse, Rectangle, Star, Triangle, Symbols, Barcode, Signature, Browse Image, Library Image and Watermark to make customized identification card for visitors.
Salient features of Visitor Management Software:
1. Design visitor ID card or gate pass with one or two sided (Front and Back side) as per need.
2. Export design ID cards as Image (JPEG, PNG, TIFF, BMP and GIF), as Template and as PDF file format.
3. Advance Email setting facilitates to send created visitor ID card at specified email address whenever required.
4. Facilitate to crop single or multiple images for ID card using Image Cropping Tool.
5. Provide option to capture photo using camera or browse image path from computer during ID card designing process.
6. Allow user to specify color and background of ID card using Solid Color, Gradient, Fill Style and Image settings.
7. Provide facility to save designed visitor ID card log file for future reference.
8. Software provides option to copy current ID card design to other side of card.
9. Software easily works with all latest versions of Windows operating system.
10. Provide simple and user-friendly environment easy to use without requiring any technical support or skills.
For more information:
Visit: www.generate-barcode.com
Email: support@generate-barcode.com
Source :
Generate-Barcode.com