Get Colour Contact Lenses Online at Mailmylens.com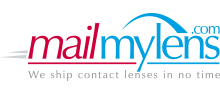 Press Release (ePRNews.com) - Noida, India - Sep 26, 2017 - Mailmylens.com is a reputable online store specializing in the provision of top-quality contact lenses, sunglasses, and sun-wear for women and men at the best rates in India. While buying with them, clients are guaranteed incredible deals that are second to none. The store is dedicated to shipping the goods on time, every time, at very nominal cost. Mailmylens.com is committed to offering its wide-ranging clients with easy, hassle-free way to replace their contact lenses. Some items on offer include celebration coloured contact lenses, prescription swimming glasses, as well as Toric lenses.
Responding to a query on how one can order if they're wearing a different brand for each eye, their Eye Specialist said, "If you wear a different set of lenses for each eye, you can begin by entering the prescription for the right eye. Then, on your brand's product page, unmark the box next to "Left Eye", this way, the page refreshes graying out the left eye parameters, allowing you to enter details for your right eye as per prescription. You then are needed to input your name below the prescription. Once you're done with the right eye, proceed to click "Add to Cart" button which will take you to the shopping cart to view the prescription you keyed in for your right eye."
Colour disposable contact lenses are amongst the most sought-after contact lenses in India, partly because they do not require a prescription to wear, and also they give the user a correction for their prescription. With colour lenses, one can experiment their look with a range of eye colours. The best part is, mailmylens.com allows users to get colour contact lenses online at affordable rates easily.
The Eye Specialists added, "For the left eye, you can use our search feature which allows you to navigate to your brand. Better yet, you can check out the product lists situated on the page's left side. Once you spot the brand you want to shop, go ahead and unmark the box next to "Right Eye". Similarly, the page will refresh, graying out the right eye. Enter your left eye details according to your contact lens box or prescription and include your name under the prescription. Then, click Add to Cart, which takes you to the shopping page which this time around will list the different prescriptions for each eye."
Toric Disposable lenses are incredible for users who would love to wear lenses throughout the month regularly. These lenses are perfect for people with astigmatism. Mailmylens.com carries Toric lenses that are of silicone hydrogel as well as hydrogel materials. And now, they also come in daily disposable Toric for clients that have a busy lifestyle and lack time to take care or clean their contact lenses. Specialists recommend Toric lenses if a patient has cylindrical power. Those trying to find soft Toric contact lenses online can browse through the extensive selection offered by mailmylens.com.
About Mailmylens.com
They are the best place to purchase sun-wear, contact lenses as well as eyeglasses online. Those looking to buy eyeglasses online at best price should consider mailmylens.com.
Source :
Mailmylens.com