GetLocal launches new search engine for tours in Iceland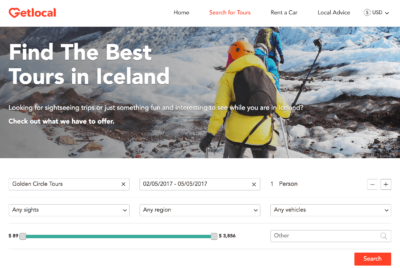 Press Release (ePRNews.com) - Reykjavik, Iceland - Apr 17, 2017 - GetLocal the free booking service and tourist information centre is proud to be launching a new version of its website with a new search engine with more than 1000 tours and activities in Iceland.
The update includes a fresh coat of paint, allowing the team to organically provide you information about their tours as you browse, and its pride and joy their powerful search engine tool.
The search engine on Getlocal.is is at the heart of its business and it allows users to, with a few simple clicks, filter the huge selection of tours and activities into a tailored shortlist of experiences that fit your needs.
Do you need to find a Golden Circle tour by horseback next Thursday? Simple. Or maybe you need to know if any Super Jeep South Coast tours that let you see Reynisfjara, the black sand beach, for less than 500 USD? Again, super simple and all tours can be booked online in real time through their secure website.
The powerful search engine works on top of live inventory access to all major tour operators in Iceland thus making GetLocal the best place to find last minute availability.
Einar Gustafsson, the company's Head of Product & Business development, about the new search engine:
"Our new search engine that covers over 1000 tours and activities in Iceland greatly enhances the experience of our customers. Using over 100 data points we have analyzed and categorized tours from close to 200 tour operators in Iceland. With our real-time access to the inventory status it leaves us in a unique position to find availability and the last remaining seats for almost any type tour anywhere in Iceland."
Perhaps more importantly the site is intuitive in its design and works great on mobile devices, allowing users to find what they need quickly without many hoops to jump through and should any issues or questions arise that are not covered then the GetLocal team provides support via a live chat system that can be accessed almost all day.
GetLocal offers more than just tours and activities, it also features an expansive list of local advice articles that can provide both native and visitor alike a wealth of information about making the most out of any trip to Iceland. Such articles include advice on what to do during bad weather, how to drive in Iceland or what to expect when going to one of the countries many geothermal swimming pools.
With so much on offer you may think it is impossible for them to do any more but we are pleased to be able to say that they do indeed also offer free coffee in their Laugavegur shop location.
Check out the the selection of tours on www.getlocal.is or contact them directly to get help planning your trip to Iceland.