GIVE YOUR OFFICE A COMPLETE MAKEOVER WITH UNIQUE FURNITURE BY IRON AGE OFFICE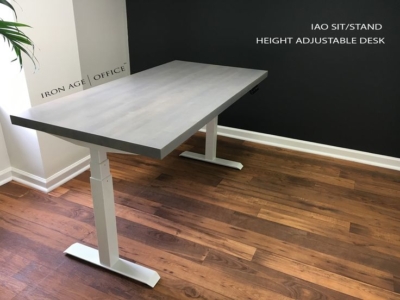 Press Release (ePRNews.com) - Georgia - Jul 13, 2017 - With the flexible but longer work hours, office is slowly becoming the place where one is spending his/her maximum hours of the day. Thus, this calls for office furniture that is not only sleek and sophisticated but comfortable also. And this is what is the mission of Iron Age Office. They have understood the requirements of modern day corporate offices and have brought forward a wide range of office furniture in Atlanta including chairs, tables, workstations and desks.
Iron Age Office is the perfect example of a great partnership of two humble men, Sean Dineen and Michael Stephen. When one of the journalists asked Mr. Stephen as to what makes the furniture of Iron Age Office stand out from rest of the counterparts, this is what he said, "Iron Age Office ("I.A.O.") is dedicated to crafting office environments that are as unique as you are. Our products take simple work environments and transform them into beautiful spaces that you and your employees are proud to work in and show off to clients.
We understand that a workspace is not just a place where work gets done, but a place where creativity and inspiration are cultivated, and where partnerships are formed and success is forged. Having an Iron Age Office product in your office will give you the confidence to close that deal you've been working on for so long and the inspiration to never settle for less than you deserve."
Now about the products offered by Iron Age Office. They have a wide range of beautiful and contemporary office chairs, tables and desks. Other than that, they also offer customized workstations that suit your requirements and office environment. Well, their products are not only limited to this. They also offer a number of stain options that gives a beautiful, royal touch to the whole area. So, in case you are thinking about refurbishing your office, this time go for the best office furniture provider in Atlanta, Iron Age Office. You can easily contact them at (770) 502-5877 or drop a mail at sd@ironageoffice.com.
You can check the whole range of products at https://www.ironageoffice.com/
Source :
Atlanta Office Furniture - IRON AGE OFFICE