Gorgeous antique French clocks will head the list of expected top lots at Fontaine's May 20th auction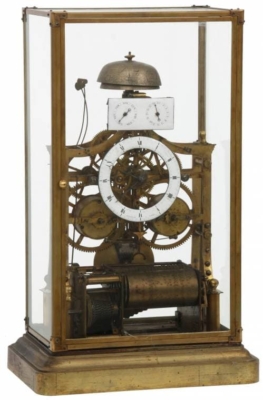 Press Release (ePRNews.com) - Pittsfield, Mass. - May 04, 2017 - Gorgeous French-made clocks will command center stage at Fontaine's Auction Gallery on Saturday, May 20th, when the firm conducts an Antiques & Fine Art Auction where seven of the top 20 high-estimate lots are clocks made in France. The sale will be held in Fontaine's gallery, located at 1485 West Housatonic Street in Pittsfield, at 11 am Eastern time.
But clocks won't be the only items on the menu. The 325-lot auction will also feature 19th and 20th century lighting, fine watches, American oak and Victorian furniture, paintings, bronze and marble statuary, Royal Vienna, art glass, gold and diamond jewelry, fine silver, porcelains, KPM plaques, Black Forest, slot machines, phonographs, advertising items and decorative accessories.
Three lots share identical estimates of $15,000-$25,000 and are the expected top three earners. One is a French clock, not surprisingly: a French industrial steam engine clock, manufactured for the Chinese market. The automaton is driven by a spring motor in the clock's rouge marble base. There is also a barometer with incised English words and Chinese characters and a thermometer.
The other two lots are a 19th century white marble sculpture by Cesare Lapini (It., 1848-1893), depicting a nude figure of Diana standing amongst a crescent moon and stars, 43 inches tall and artist signed; and a platinum and diamond solitary ring, featuring a large four-prong set center diamond weighing around 3.37 carats (G color, SI2 clarity), in a platinum and iridium setting.
The other French clocks in the top 20 are as follows:
A figural automaton clock, 38 inches tall counting the ebonized base and with a standing figure of a Chinese man who moves his arms eyes with the help of a start-stop switch, in excellent running condition, under a dome, and even plays music (est. $10,000-$15,000).
A rare brass musical calendar skeleton clock with 5-inch porcelain dial signed "Chaveau, a Paris" with a separate brass fusee spring-driven cylinder music box mechanism below the clock movement that plays a tune once per hour; in a dome (est. $12,000-$15,000).
A figural double ball floor clock, lot #1, a visually arresting 38-inch-tall standing figure of a woman cast in spelter, holding two gilt brass spheres, one in each hand, signed "A. Carrier" (Fr., 1824-1887), overall 48 inches on turned marble base (est. $8,000-$12,000).
A figural cupid mantle clock, large at 19 ½ inches tall and with a porcelain dial signed "Grobe, a Paris" and a brass 8-day spring-driven movement signed Japy Freres.  Winged cupid is depicted writing on a scroll and draped with a golden robe (est. $5,000-$7,500).
A figural bronze silk thread mantle clock with a dore bronze figure of a youthful Amor, seated on a pedestal stealing time. The pedestal has a fluted column draped with a strand of garland with roses and leaves. Signed "Monbro Aine – A Paris" (est. $5,000-$7,500).
A three-piece Egyptian Revival clock set in a black marble case with green onyx insets, gilt and silvered incised highlights, a large two-tone Sphinx on the top of the clock case and onyx obelisk side pieces with incised hieroglyphics on the front (est. $4,500-$6,500).
The furniture category will be led by an oak figural carved dining table with 60-inch diameter top having a beveled edge with leaf carved apron, in very good medium brown original finish (est. $15,000-$20,000). Also sold will be a rosewood Rococo Revival marble-top étagère with four original mirrored back panels with serpentine shelves, 80 ½ inches tall (est. $5,000-$7,500).
Fans of Black Forest will be delighted to see several lots dedicated to the collectible, with two carrying estimates of $6,000-$8,000, both bear-themed benches. One is a figural carved bench with a pair of full standing bears having glass eyes and painted highlights. The other is similar, but with the two standing bears connecting to a third smaller bear using their outstretched paws.
Sculptures will include a carved marble figure of a woman seated on a stone formation, holding birds in both hands, 35 inches tall, signed "F Bottiglieri" (est. $8,000-$12,000); and a whimsical, cold painted bronze sculpture by Paul Wegner (La., b. 1950), titled Rhythm and Blues, depicting the heads and hands of four musicians playing instruments, 43 inches tall (est. $6,000-$8,000).
Returning to clocks, a Harrison Regal H-1 Grasshopper clock (#6 of 20), signed and created by ProClocks, The Regal Grasshopper, in England, in memory of John Harrison (in his "Quest of Longitude") should hit $6,000-$8,000; and a Biedermeier 30-day Vienna regulator Laterndluhr clock with white marble dial and black Roman hour numerals should sell for $12,000-$15,000.
A monumental relief-decorated bronze oval wall plaque with an autumn harvest scene and an allegorical nude figure of Demeter, 23 ¾ inches by 28 ¾ inches, should garner $7,500-$12,500; and a 14kt gold sapphire and diamond bracelet having a center buckle design set with 10 oval blue sapphire cabochons and four old European-cut diamonds is expected to hit $5,000-$7,500.
Internet bidding will be provided through LiveAuctioneers.com, Invaluable.com, EBay.com and FontainesLive. Phone and absentee bids will also be accepted. Previews will be held on Friday, May 19th, from 11-5, and on Saturday, the date of sale, from 8 am until the first gavel falls at 11.
Fontaine's Auction Gallery is actively seeking quality items, to include furniture, lighting, clocks and watches, paintings, porcelains, bronze and marble statuary, Asian items, art glass and cameo glass, Russian objects, silver, musical, coin-op, advertising, toys, banks, gaming and carousel items for future sales. Consignments are currently being accepted for all the upcoming auctions.
The firm will buy outright or accept on consignment fine antiques, collections or entire estates. Call (413) 448-8922 and ask to speak with John Fontaine, or you can send Mr. Fontaine an e-mail to info@fontainesauction.com. For more information about the company and the upcoming Saturday, April 22nd auction please visit www.FontainesAuction.com. Updates are posted often.
#   #   #   #   #
Source :
John Fontaine