Harland Simon completes upgrade of Press Controls at Arizona Republic, AZ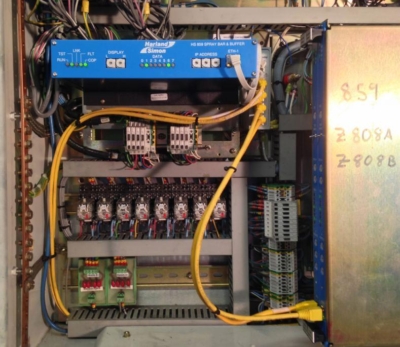 Press Release (ePRNews.com) - CHICAGO - Apr 27, 2017 - Arizona Republic, AZ, one of Gannett's production facilities, has contracted with Harland Simon to upgrade the press control system on its Goss Universal 45 Press, due to the increased demand on their press and the lack of component availability for the existing Rockwell Automation control systems.
This new project involved replacement of the MPU with a PC based system which interfaces to the existing HDLC network, thus controlling the on-unit ink, damp and registration (Z808 & 859) cards. In addition to the MPU upgrade, Harland Simon provided 22″ press control touch screens for mounting on each Bargraph quality desk to enable quick adjustments of all press control functions.
The second phase of the upgrade involved the replacement of the Z808 & 859 cards on four towers (see insert), allowing the components from these upgraded towers to be harvested to support the remaining towers. The MPU-S PC based system allows for the communication over both Ethernet (new towers) and HDLC (old towers) simultaneously without affecting user operation, all through a press control touch screen control interface.
To complete the upgrade, Harland Simon installed its Upper Level Management Information System – Prima MS/RIPSet, a comprehensive and user-friendly suite of management information system, which includes: Ink Calibration / Pre-setting, Planning, Impositioning (manual and automatic) and CTP workflow interface.
As with all Harland Simon offerings, the existing system remained operational until the new equipment has been fully tested and commissioned, which eliminated any risk to production.
This method also keeps costs down while ensuring all the vulnerable parts of the system are replaced. The solution was based on techniques that have been successfully developed for the replacement of many systems originally supplied by other press and drives manufacturers over the past 40 years.
John Staiano, Managing Director – Americas, for Harland Simon, commented, "Our press control system, approach and system architecture have been designed in such a way to allow customers to spread out the cost of a full upgrade without sacrificing functionality or benefits."
The above solution had already been rolled out to a number of sites in Europe and Asia; however, more locally at Advance Web Offset, CA; Star Phoenix, SK; Tribune-Review, PA; Butler Eagle Printing, PA and La Prensa, Panama.
For more information please visit www.harlandsimon.com/print
Source :
Harland Simon

Business Info :
Harland Simon
Bond Street Bletchley
Milton Keynes, Buckinghamshire - MK1 1TJ England
Phone: 01908 276700