HealthPhone Launches Nutrition Handbook Mobile Apps in 11 Indian Languages
Educating Mothers: How to prepare nutritious and safe meals and feed each member of the family well, and by motivating people to adopt healthy eating habits.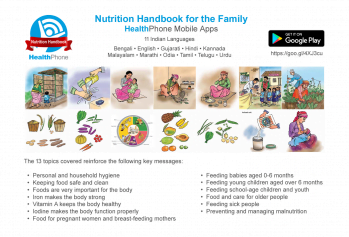 Press Release (ePRNews.com) - NEW DELHI, India - May 02, 2017 - Over half of India's women are anaemic and one in every five is underweight, reveals National Family Health Survey-4 (2015-16). Not surprisingly these women — underfed and overworked — often give birth to stunted and malnourished children. Furthermore, nearly one in every three Indian children under the age of five is stunted and underweight for their age and over 58% are anaemic.
HealthPhone's "Nutrition Handbook for the Family" mobile apps, in 11 Indian Languages, provide practical guidance for good nutrition and health practices.
These apps are adapted from the "Nutrition Handbook for the Family" published by FAO-Nepal and reinforce the following key messages:
• Personal and household hygiene
• Keeping food safe and clean
• Foods are very important for the body
• Iron makes the body strong
• Vitamin A keeps the body healthy
• Iodine makes the body function properly
• Food for pregnant women and breast-feeding mothers
• Feeding babies aged 0-6 months
• Feeding young children aged over 6 months
• Feeding school-age children and youth
• Food and care for older people
• Feeding sick people
• Preventing and managing malnutrition
Get HealthPhone Nutrition Handbook mobile apps from Google Play Store https://play.google.com/store/search?q=HealthPhone+Mobile… in Bengali • English • Gujarati • Hindi • Kannada • Malayalam • Marathi • Odia • Tamil • Telugu • Urdu
With special thanks to Translators Without Borders who support humanitarian work around the world and help save lives. They are a key partner in translating our videos and documents into Indian languages.
Also recently launched in 18 Indian languages:
Food & Nutrition Mobile Apps – https://play.google.com/store/search?q=FNB+HealthPhone
These apps address Adequate Complementary Feeding, Anaemia: Blood and Iron Deficiency, Importance of a Balanced Diet, Correct Norms of Infant & Young Child Feeding, Importance of Infant and Young Child Nutrition, Iodine: The Importance of Iodised Salt, Nutrition of the Child, Vitamin A, Navjaat ki Suraksha, Diet During Pregnancy, and Healthcare during Pregnancy.
Poshan | Nutrition Mobile Apps – https://play.google.com/store/search?q=Poshan%20HealthPhone
These apps address issues of status of women, the care of pregnant ​women and children under two, breastfeeding and the importance of a ​balanced diet, health and simple changes in nutritional care practices that can notably enhance nutrition levels.
All mobile apps have been developed in partnership with HealthPhone by ​The Centre for Development of Advanced Computing (C-DAC), Hyderabad, a ​research and development organization under the Ministry of Electronics and Information Technology, Government of India. Once installed, these apps work offline; they do not require a connection to a mobile network.
We hope that these apps will contribute to improving the nutritional status of people, especially women and young children, by increasing their knowledge through group sharing and discussion promoted by frontline health workers and other organized groups and communities.
The Mother and Child Health and Education Trust (MCHET) is a charitable trust that strongly advocates for the power of knowledge to educate, motivate, empower and inspire communities, and particularly women, to improve health practices for the benefit of children. HealthPhone ( http://healthphone.org ) is a strategic and creative initiative of MCHET.
Kindly forward this announcement widely to your colleagues and networks in India. Thank you.
.
Source :
The Mother and Child Health and Education Trust

Business Info :
The Mother and Child Health and Education Trust
Star House, East Wing, Suite 933, 3 Salisbury Road
Tsim Sha Tsui, Kowloon Hong Kong
Phone: +852 9244 1747
Website:
http://motherchildtrust.org