HERENCIA: Latin-American Influence In Art . . . D. Del Reverda-Jennings: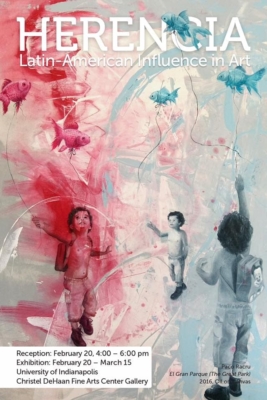 Press Release (ePRNews.com) - INDIANAPOLIS - Feb 20, 2017 - HERENCIA: LATIN-AMERICAN INFLUENCE IN ART — Christel DeHaan Fine Arts Center Gallery . . . University Of Indianapolis, Campus.
OPENING ARTISTS' RECEPTION — MONDAY, FEBRUARY 20TH, 2017 From 4 – 6:00pm.
ENGAGING & POWERFUL ~~~ A FANTASTIC EXHIBITION!
" HERENCIA: LATIN-AMERICAN INFLUENCE IN ART " brings together the talents of local, regional, national, and international artists in celebration of Latino heritage and what it is to be Latin-American.
Herencia, is the Spanish word for "Heritage" or "Inheritance." This exhibition features artists from various Latino backgrounds who explore their heritage or cultural inheritance through various media elements. They explore the themes of self-identity, perceived identity, heritage, slice of life, stereotypes, politics and satire and the diversity of Latino cultural influences on day-to-day life.
Being a minority within a minority gives one a different view of the world. For Indianapolis based artists Mirvia Eckert and D. Del Reverda-Jennings, being females and Latinas presents an opportunity to explore their heritage through a different lens. Both artists explore and embrace this intersectionality in different ways.
For Mirvia, her work is about how her being is a juggling act between her Afro-European-Indigenous identity and her femininity. For D. Del Reverda-Jennings, her work is about exalting her African-American-Latina identity and how it connects to ancestral spirit, the Divine Feminine, memory, folklore, stereotypical assumptions and nature.
View original paintings, fine art prints, sculpture and installations.
The exhibition features work by noted artists:
Jonathan Christian Angulo (Mexican-American, Indianapolis)
William Camargo (Mexican-American, Anaheim)
Hector Del Campo (Cuban-American, Indianapolis)
Daniel Del Real (Mexican, Indianapolis)
D. Del Reverda-Jennings (African American-Dominican-Puerto Rican, Indianapolis)
Mirvia Eckert (Puerto Rican, Carmel)
Michael Evans (Virgin Islander, Indianapolis)
Eric J. Garcia (Mexican-American, Chicago)
David Gremard Romero (Mexican-American, Mexico City)
Indy Skull Arts Collective (32 artists)
Yvette Mayorga (Mexican-American, Chicago)
Paco Racru (Mexican, Jalisco)
Sergio Sanchez Santamaria (Mexican, Morelos)
Antonio Triana Cardoza "cix" (Mexican, Mexico City)
Samuel Vazquez (Puerto Rican, Indianapolis)
Exhibition coordinated/curated by Daniel Del Real
Gallery hours; 9:00 am to 9:00 pm., Monday through Friday.
Free! and Open to the public.
Come see how Latino artists are expressing their identity in Herencia from February 20 through March, 2017 at the Christel DeHaan Fine Arts Center Gallery.
Free! & Open to the Public!
~~~
Ser una minoría dentro de una minoría otorga a uno una distinta visión del mundo. Para las artistas Mirvia Eckert y D. Del Reverda-Jennings, ser mujeres y latinas representa para ellas una oportunidad para explorar su herencia a través de un punto de vista distinto. Ambas artistas exploran y adoptan esta interseccionalidad de diferentes maneras. Para Mirvia, sus obras tratan sobre cómo su ser es un acto de equilibrio entre su identidad afro-europea-indígena y su feminidad. Para D, sus obras consisten en exaltar su identidad afro-americana-latina y cómo se conecta con la naturaleza. Ven a ver cómo los artistas latinos están expresando su identidad en Herencia del 20 de febrero al 15 de marzo en la Galería Christel DeHaan Fine Arts Center.
¡Gratis! Y abierto al público
INFO: https://www.facebook.com/FLAVA-FRESH-151243758400202/ , https://www.facebook.com/events/171313046693809/permalink… , delreald@sbcglobal.net .
Source :
Trish Sullivan