HGI generators wins large order from A-Plant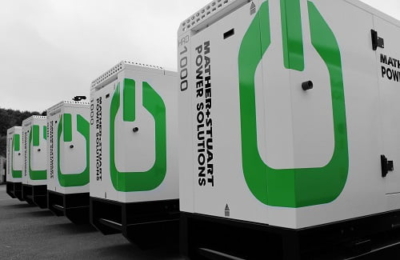 Press Release (ePRNews.com) - WIRKSWORTH, England - Jul 07, 2017 - HGI generators wins large order from A-Plant for its specialist power generation business, Mather+Stuart Power Solutions. This latest order totalling nearly £2million is to enhance their power fleet for the summer events season.
A-Plant has invested in HGI`s 20 – 100 kVA HRD range of generator sets designed to provide a competitive offering to industry whilst continuing to deliver reliable and fuel-efficient performance. Designed and built in Wirksworth, Derbyshire.
The HRD range offers power nodes for all sectors, encapsulated in a high quality enclosure with excellent sound attenuation for a diverse range of applications. Mather+Stuart's customers have
their own event specific requirements. Taking this feedback on board we have adapted the HRD range to give an Event Specific 1500rpm HRD range with the ability to be synchronised. Supplied
with sockets and terminal output, the end user is able to marry a HRD set together with Mather+Stuart's specialist range of rental distribution boards. These adaptations give the customers
an economical alternative to the traditional site rental sets which "don't quite do the job". Covering from 9 to 100kVA the sets are built with HGI's own Engineered Acoustic Repression (EAR)
technology giving one of the quietest generators in class. We believe these industry specific modifications further strengthens our position within the market place,demonstrating our commitment to continuous improvement of our product range focused on customer needs.
Bryan Harris MD
"We are delighted to have secured such a significant order from A-Plant's power generation business in the shape of Mather+Stuart Power Solutions. This gives HGI the recognition and reward for
our tireless efforts to provide the market with a British Made, "fit for purpose" quality product. We believe that our team has what it takes and not only have we delivered a market leading solution our business proposition means we can also provide excellent customer service "
Source :
Harrington Generators int ltd