High-ranking Kuwait Officials visit American Hospital Dubai
AHD Vice Chairman Buti Almulla & DXH Head Dr. Layla AlMarzouqi welcomes delegates from Kuwait Medical Committee at Armed Forces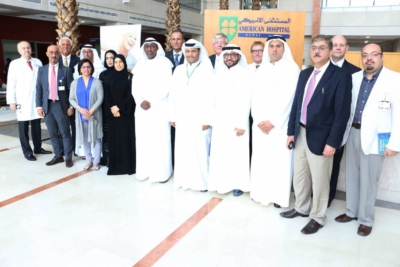 Press Release (ePRNews.com) - DUBAI, UAE - Jul 24, 2017 - American Hospital Dubai (AHD), has received a high-ranking delegation comprising representatives of the Kuwait Medical Committee at Armed Forces who will be visiting the multi-specialty hospital until July 26, 2017.
The Kuwait contingent led by Brigadier General Emad Sultan Aman, Colonel Dr. Rashid Fahad Aldowaila, Lieutenant Colonel Dr. Hisham Mohammed Alasaosi, and Lieutenant Colonel Dr. Mohamed Alghanim. They will meet the hospital's department heads and observe its world-class medical services and technologies throughout their extensive four-day tour.
The agenda included a meet and greet with AHD CEO Peter Makowski and Chief Administrative Officer Firas Al Attili. The guests were also introduced to Buti Almulla, Vice Chairman; Dr. Layla Mohamed AlMarzouqi, Head of Dubai Health Experience (DXH); Dr. Robert Courteney-Harris, Chief Medical Officer; Dr. Ammar Safar, President of Medical Staff; Dr. Tarek Dufan, Director of Radiation Oncology and Chief of Medical Imaging; Dr. Thomas Nau, Orthopedic Surgeon; Dr. Khaldoun Taha, Director of Heart Center, Cardiologist; Dr. Fahad Kouli, Chief of Internal Medicine; and Dr. Carmelo Barbaccia, Chief of Surgery.
Dr. Safar gave an overview of the hospital's services, after which the visitors were given a tour of the Presidential Suite, VIP and Standard Rooms, the OR, the Rehab Center, and other major facilities. The group also spent time with patients referred by the Kuwait Embassy to AHD.
Makowski said: "We are honored to welcome such an esteemed delegation from Kuwait and give them an exclusive tour around the hospital, introduce our key people, and facilitate interactions with the many Kuwaitis we treat. The next couple of days will provide an excellent opportunity for us to learn more about how we can best serve the citizens of Kuwait and at the same time assure some of Kuwait's top officials that their people who live and work in Dubai and the other emirates are enjoying superior medical services at American Hospital Dubai."
The Kuwait delegates will continue to tour American Hospital Dubai's various departments and discuss avenues for cooperation with the medical facility over the next three days.
Source :
Orient Planet PR & Marketing Communications