High Stick Vodka Wins Double Gold in NY
Canadian High Stick Vodka wows judges once more at international tasting competition and wins highest award -- Double Gold.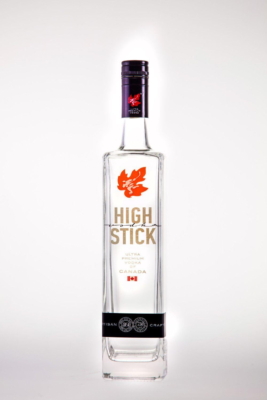 Press Release (ePRNews.com) - EDMONTON, Alberta - Jun 20, 2017 - Premium High Stick Vodka is usually known for its unique signature bottle created by hand blown artisans in the shape of a hockey stick but is now establishing itself is truly a top shelf Vodka.
Just recently The Fifty Best has announced that High Stick Vodka was awared the Double Gold medal, the highest honour available. A pre-qualifed panel of judces blind-taste the competitors and rate them indivudually on a 1-5 point scoring system. After tallying the scores, medals are awarded based on judges' impressions.
This latest award only underlines the consistent high qualty of High Stick vodka since winning double gold 2 years running at the at the Wine & Spirits Wholesalers of America trade show. Winning double gold in 2015 and winning best vodka in show in 2016.
Distilled and bottled in the heart of the Okanagan in British Columbia, Canada the vodka is created in small batches using the finest 4 times distilled grain spirit and mixed with the purest of mountain spring water to bring you the most smooth Canadian ultra-premium vodka.
The complete ranking of results and the associated tasting notes can be found here: http://www.thefiftybest.com/spirits/best_vodka/
More information http://www.highstickvodka.com/product
Source :
High Stick Vodka Ltd.