In rememberence of SSgt Loius Cardin USMC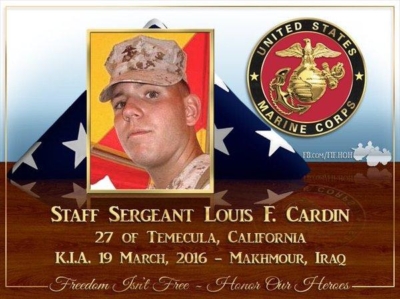 Press Release (ePRNews.com) - TEMECULA, Calif. - Feb 24, 2017 - During 2015 in Camp Legeune US Marines were training for a deployment that would shock the world. At the time, they did not know this. When the 26th MEU was sent underway, many Marines saw another booze-cruise. Just Marines sailing around the world, getting drunk, fighting from port to port. This was not the case for the Artillerymen of the 26th MEU. They would quietly insert in Iraq and take up position to provide fire-support for the ground forces during Operation Inherent Resolve.
As the Marines detached from the 26th MEU and 2/6 they took up a hardened position on the outskirts of Mosul. Fire-base Bell is the name of the Marine position. The name "Bell" honored the late SSgt Bell, who lost his life to an IED in Kajaki District, Helmand Province, Afghanistan in 2011.
As the Marines continued to provide fire support they were attacked by ISIS militants. They took a large amount of indirect fire. The Marines were still out in the open inside the fire-base. SSgt Louis Cardin was not phased as he quickly lept into action and made sure his fellow Marines took cover. Unfortunately, SSgt Cardin did not make it in time. Four Marines, not including SSgt Cardin, would recieve Purple Hearts that day.
The event undoubtably shook the world. American citizens, nor the media, had any idea that we had ground forces in Iraq at the time. However the attack and the death put american involvement in the spotlight.
General Robert Neller the Commandant of the Marine Corps said this during the memorial, "The loss of a Marine is sad, but I thought about it: He was leading his Marines in combat," Neller said. "They were in indirect fire and he made sure everybody got in the bunker, and he just didn't make it in time. Is that sad? That's sad. But if you're going to go, you want to go in the fight."
That is exactly what SSgt Cardin was doing when he lost his life on March 19, 2016, at the age of 27. Devil Dog Shirts reckognizes the bravery and valor of SSgt Cardin. He was the first Marine and second service member to lose his life battling ISIS.
(This article was created out of respect for the brave Marines that took part in the operation in the battle against ISIS. Rest In Peace SSgt Louis Cardin, until Valhalla!)
This article was written by: http://devildogshirts.com/
Source :
devildogshirts.com