Indian author Krishnaveer Abhishek Challa wins prestigious Azsacra International Award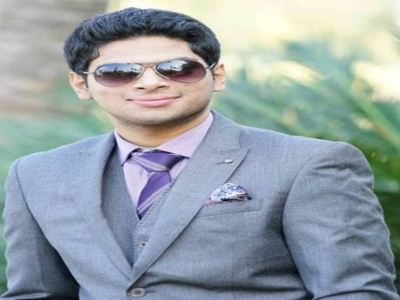 Press Release (ePRNews.com) - MAGNITOGORSK, Russian Federation - Jan 28, 2017 - Krishnaveer Abhishek Challa is winner of AZsacra International Poetry Award – For Taj Mahal Review Dec. 2016 issue. The award is sponsored by famous Russian writer Azsacra Zarathustra. Mr. Krishnaveer Abhishek Challa (b. 1991) is currently working as Soft Skills Trainer cum Faculty at Department of Foreign Languages, Andhra University. He is pursuing PhD from Department of Linguistics, Andhra University. He is also the Secretary of Linguistics Research Society and Honorary CEO of Tao Educare. He worked as Assistant Professor of English at Gayatri Vidya Parishad College for Degree & PG Courses (A), Visakhapatnam, India. He worked as Guest Faculty at Andhra University College of Engineering (A). He received MA in English Language & Literature from Adikavi Nannaya University and Masters in Journalism and Mass Communications from Andhra University. He qualified State Eligibility Test (SET) for Lectureship/Assistant Professorship. His specialization is International Communication. He also completed Masters in Linguistics and Computer Science. He did P.G. Diplomas in English Language & Linguistics, Communication Skills, Functional English, English Language Teaching and Social Exclusion and Inclusive Policy. He did Diplomas in French, Functional Arabic and Yoga. He authored 41 books and published 83 Research Articles, Poetry and Book reviews in reputed Journals, Edited Volumes and Newspapers and Seminar Proceedings.
About Award:
AZsacra International Poetry Award for Taj Mahal Review is given to selected poets published in Taj Mahal Review. The award is sponsored by Azsacra Zarathustra, a well known Russian philosopher and poet-mystic. He is Editorial Advisor for the international journal of poetry and art "Harvests of New Millennium" (India). He is published in India, Tibet, Japan, Germany, Norway, England, USA.
So far the award has been given to …
María Cristina Azcona is an Educational Psychologist, poetess, novelist and peace researcher. Her articles, reviews, poems and short stories are continuously published in many newspapers, magazines and anthologies around Argentina, UK, India, US, and other countries. Since 1980, she works as a psychotherapist specialized in Forensic Psycho diagnosis, listed by the American Biographical Institute (ABI) in their international directory "Experts & Expertise". (US)
Albert Russo who has published worldwide over 65 books of poetry, fiction and photography, in English and in French, his two mother-tongues, is the recipient of many awards, such as The American Society of Writers Fiction Award, The British Diversity Short Story Award, several New York Poetry Forum Awards, Amelia Prose and Poetry awards and the Prix Colette, among others.
Adam Donaldson Powell (USA-Norway) has published several books previously, including novels/novellas, poetry, literary criticism and more – in USA, Norway and India. He writes in English, Spanish, Norwegian and French. Mr. Powell is also a visual artist (painter, installation artist and photographer), and a literary critic (primarily poetry books, haiku books, and books of short prose).
Ban'ya Natsuishi, master of contemporary haiku and trailblazer at home on the overflowing haiku mountain of life, offers the world – Hybrid Paradise, a collection of his recent, liberating work. In 2009, I wrote a review in a book for him, The Poetical Achievements of Ban'ya Natsuishi, understanding the honour of casting my views on such outstanding haiku. Again, I am thrilled to be involved in the process of expounding works of this incredible author, who has been a great influence in forging ahead with my own style of muki-haiku (seasonless poem technique)!
https://www.cyberwit.net/authors/krishnaveer-abhishek-challa
Source :
Cyberwit

Business Info :
Cyberwit.net
Uttar Pradesh - 211011 India
Phone: 2552257
Website:
http://cyberwit.net