'Inner Chains' from Telepaths' Tree is set to be released at the turn of Q3 and Q4 2016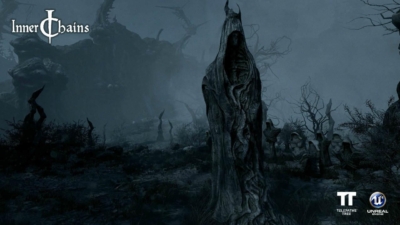 Press Release (ePRNews.com) - WARSAW, Poland - Jun 17, 2016 - Inner Chains was announced in September last year, immediately receiving attention from both the media and the gaming community. The interest the game generated was confirmed half a year later when Telepaths' Tree launched the Kickstarter campaign for Inner Chains. Within just a week, Inner Chains had achieved its first goal of $10,000, and by the time the campaign was over the developers had managed to almost double this amount.
With such clear evidence of how much gamers liked the idea of Inner Chains, Telepaths' Tree had to face a tough decision: whether to finish development on schedule, delivering what was promised, or to take some more time in order to bring FPS horror game fans out there a title that will be bigger in scale and richer in content, and that will truly meet gamers' expectations.
'We've spent long hours thinking what we should do – says Tomasz Strzałkowski, CEO of Telepaths' Tree. On the one hand, we didn't want to disappoint our Kickstarter backers' trust. On the other, we've gathered almost twice as much money as we've asked for and nearly achieved our second stretch goal. This success clearly showed us that those who are waiting for Inner Chains actually want a more complex, more unique, and more challenging experience. That's why in the end we decided to push back the launch date. But we've made this decision so that we're actually able to deliver ALL the extra content that was promised in our stretch goals! So, as a thank you to all our backers, supporters, fans, and community members, we're happy to announce that we're adding 2 additional opponents to the game (1 human‑like and 1 animal-like), 3 more deadly plants you'll need to watch out for, and a completely new additional alternative ending. On top of that, we're also working on new gameplay solutions for the weapons you'll have in hand and the way your arsenal will be upgraded. We're positive that taking some more development time will allow us to deliver a truly unique game, which is what we set out to do from the very beginning' – Strzałkowski added.
Inner Chains is an FPS horror game set in a surreal, dark, and deadly biomechanical world that resembles nothing you have ever encountered. In the world of Inner Chains, you don't get to set the rules. You are just a small part of a hostile, unwelcoming universe. If you want to survive, the only thing you can do is to try to discover its secrets.
INNER CHAINS' MAIN FEATURES
• Unprecedented methods of interaction between weapons, their users, and the environment.
• A dark biomechanical world where both fauna and flora lie in wait for your slightest stumble.
• VR Support.
• Stunning surreal visual style.
• Deadly, intelligent, and challenging opponents.
• Unusual locations with their own unique stories.
• A dense, suggestive atmosphere of terror, magnified by the great soundtrack composed by Michał Staczkun.
• Subtle thriller elements that will fill you with fear in unusual, inventive ways.
• Thrilling action combined with an interesting, hair-raising story.
To follow the development of the game, visitInner Chains'official websitehttp://innerchainsgame.com/, and theFacebook (https://www.facebook.com/InnerChains)andTwitter (https://twitter.com/TelepathsTree)profiles.
Source :
Telepaths' Tree