Innovative non-surgical breast lift technique, ThermiBreast newly available at Cape Fear Aesthetics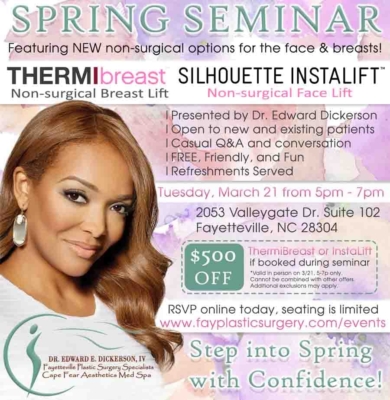 Press Release (ePRNews.com) - FAYETTEVILLE, N.C. - Mar 03, 2017 - Cape Fear Aesthetics MedSpa and Fayetteville Plastic Surgery Specialists, a premier combination cosmetic enhancement and medical spa facility, is a leader in offering innovative procedures for the face and body. Dr. Edward Dickerson, Double Board Certified Facial Plastic and Reconstructive Surgeon, Owner, and Medical Director of the practice, has recently revealed the latest non-surgical procedures the practice has added to their extensive list of services. Both ThermiBreast, non-surgical breast lift, and Silhouette InstaLift, non-surgcial face lift are now available.
ThermiBreast is a minimally invasive procedure that uses radio frequency energy to tighten skin and produce new collagen and elastin. ThermiBreast is also known as ThermiBra due to the treatment's supportive effects. Up to 1″-2″ of lift can be experienced, making it a good alternative for those who need a mild to moderate correction. Results develop gradually over a period of months as the body responds to the radio frequency application. No scars are left and patients return to normal activity within 48 hours.
Silhouette InstaLift is a face lift alternative that provides instantly visible lift and recontouring results to reduce jowls, smile lines, or neck lines. Using dissolving sutures, the facial skin is gently lifted for a natural look. An extra benefit of the procedure is that as the sutures dissolve, the skin produces new collagen. This allows results to last for up to two years. InstaLift only takes about an hour to perform and recovery consists of tending to minimal bruising.
While these revolutionary procedures provide beautiful and long-lasting results, they cannot replace surgery. Dr. Dickerson stated, "There's no substitute for the level of restructuring a surgical face lift or surgical breast lift can produce, but non-surgical alternatives provide noticeable improvement with less downtime, lower risk, and generally lower cost than traditional methods". Dr. Dickerson has seen success with ThermiBreast and Silhouette InstaLift among his patients, and is proud to now offer these services on a larger scale to the public.
Dr. Dickerson will be hosting a free informational seminar about ThermiBreast and Silhouette Instalift on Tuesday, March 21st from 5:00pm to 7:00pm. Registration details can be found at http://www.fayplasticsurgery.com/events
Complimentary cosmetic consultations are offered for these procedures and may be booked by calling (910) 323-3757 or by making an online appointment request at http://www.fayplasticsurgery.com/appointment-request
About Cape Fear Aesthetics MedSpa and Fayetteville Plastic Surgery Specialists
Cape Fear Aesthetics MedSpa and Fayetteville Plastic Surgery Specialists prides itself on providing top of the line surgical, non-surgical, and laser cosmetic and anti-aging procedures to transform the face and body in a private AAAHC Certified Office Cosmetic Surgery Center. The full-service Med Spa provides advanced skin care, massage, and body work, as well as laser hair removal and laser tattoo removal. Additionally, physician supervised weight loss as well surgical and non-surgical options for hair, eyebrow, and eyelash restoration are available.
About Dr. Edward Dickerson
Dr. Edward Dickerson has transformed the Carolina's into his canvas; one thousand rejuvenation celebrations and counting. Discover a doctor with a double dosage of credentials. One certification from the American Board of Otolaryngology-Head & Neck Surgery and another from the American Board of Facial Plastic and Reconstructive Surgery. Aside from a solid education, Dr. Dickerson laid the foundation for his future during his service to our country.
His military service includes: serving as the 2nd Brigade Surgeon of the 325 Airborne Infantry Regiment in the 82nd Airborne Division at Ft. Bragg, North Carolina and training in Otolaryngology and Head and Neck Surgery (OHNS) at Brooke Army Medical Center. Later , he landed Chief of Staff of OHNS at Womack Army Medical Center, earned the rank of Lieutenant Colonel and earned numerous awards including the Meritorious Service Award, Two Oak Leaf Clusters, the Army Commendation Medal.
Today Dr. Dickerson spends his nine to five directing Cape Fear Aesthetics MedSpa and Fayetteville Plastic Surgery Specialists, Fayetteville's premiere combination practice providing cosmetic enhancement services for the entire body and MedSpa. On the home front, beyond fathering his own three, Dr. Dickerson mentors local youth within the Fayetteville community and surrounding areas by providing educational benefits through multiple community organizations.
Source :
Cape Fear Aesthetics MedSpa

Business Info :
Cape Fear Aesthetics Med Spa
2053 Valleygate Drive, Suite 102
Fayetteville, North Carolina - 28304 United States
Phone: 9103233757
Website:
http://fayplasticsurgery.com