International Mother Language Day observed at JMA Pilani Rajasthan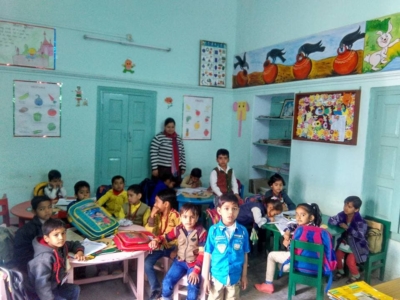 Press Release (ePRNews.com) - PILANI, India - Feb 21, 2017 - It is known that we dissect nature along lines laid down by our native language and that language is not simply a reporting device for experience but a defining framework for it. No one has any doubt that language shapes the way we think, and determines what we can think about. Many people are alarmed when a plant or animal species become extinct. A language dying hits even closer to us for it means a unique creation of human beings is gone from the world.
International Mother Language Day has been observed every year since February 2000 to promote linguistic and cultural diversity and multilingualism. The date 21 February represents the day in 1952 when students demonstrating for recognition of their language, Bangla, as one of the two national languages of the then Pakistan, were shot and killed by police in Dhaka, the capital of what is now Bangladesh.
The theme for 2017 is "Towards Sustainable Futures through Multilingual Education". All moves to promote the dissemination of mother tongues will serve not only to encourage linguistic diversity and multilingual education but also to develop fuller awareness of linguistic and cultural traditions throughout the world and to inspire solidarity based on understanding, tolerance and dialogue.
India is one of unique countries in the world that has the legacy of diversity of languages. Multilingualism is the way of life in India as people in different parts of the country speak more than one language from their birth and learns additional languages during their life time. In 1991 the Census of India listed 1576 mother tongues' with separate grammatical structures and 1796 speech varieties that is classified as other mother tongues'.
The twenty two languages that are recognized and included in the Eighth Schedule of the constitution are: Assamese, Bengali, Bodo, Dogri,Gujarati, Hindi, Kashmiri, Kannada, Konkani, Maithili, Malayalam, Manipuri, Marathi, Nepali, Oriya, Punjabi, Sanskrit, Santhali, Sindhi, Tamil, Telugu and Urdu. Three languages, Sanskrit, Tamil and Kannada have been recognized as classical language with special status and recognition by Government of India. The classical languages have written and oral history of more than 1000 years. In addition to these scheduled and classical languages, the Constitution of India has included the clause to protect minority languages as a fundamental right.
To foster sustainable development, learners must have access to education in their mother tongue and in other languages. It is through the mastery of the first language or mother tongue that the basic skills of reading, writing and numeracy are acquired. Local languages, especially minority and indigenous, transmit cultures, values and traditional knowledge, thus playing an important role in promoting sustainable futures. The Constitution of India also protects the interest of children to get basic education in their mother tongue.
Right from its inception, Smt Jamuna Mishra Academy – JMA Pilani has embarked on a rich tradition of celebrating various days of national and international significance. The school which is one among the top ranking schools in Pilani, on 21 Feb 2017 during the assembly had a talk by Principal Mrs Booma Natarajan who shared the significance of the day including the message from UNESCO Director-General Irina Bokova. There was a thunderous applause when various students came forward to demonstrate their ability to speak in Punjabi, Gujarati etc even though their mother languages were different.
For more details about JMA Pilani see http://jmapilani.org
About JMA Pilani: Smt. Jamuna Mishra Academy (JMA) established in the year 2004 which has been making rapid strides in early childhood education is presently one of the most sought after schools at Pilani considered as Oasis in the desert state of Rajasthan well known in India today for one among top in world ranking BITS Pilani University as well as CSIR Laboratory CEERI and globally renowned Birla Science Museum. JMA Pilani is a Co-educational English Medium School with Experienced Teachers, Spacious Classrooms and Modern Amenities designed to impart Quality Education combined with All Round Personality Development and lay the Best Foundation for the Child's Future. JMA which started in 2004 with an enrollment of 60 students for the Nursery, LKG, First Junior and Class I has grown today till Class XII and enrollment of 900. While the school admits both boys and girls, the girl student enrollment has been steadily rising every year and is presently nearly 50% of the total strength. The school has boys NCC, girls band which has been winning laurels every year too. Yoga and Fine arts are not just part of school routine but a way of life for the students.
Source :
JMA Pilani