Ionbond UK installs new large DLC capacity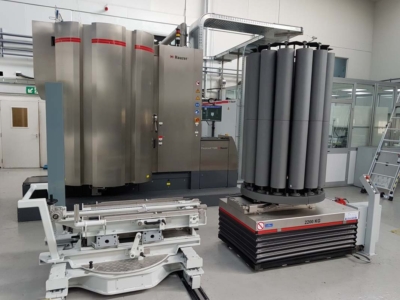 Press Release (ePRNews.com) - ZURICH, Switzerland - Oct 21, 2017 - Ionbond UK Ltd installs new large DLC capacity for precision components & automotive decorative applications
IHI Ionbond is pleased to announce a £1.5M investment in a Hauzer 1500 PVD/PACVD system adding much needed additional capacity. The large-scale equipment measures in at an impressive working zone of 1m diameter by 1.5m working height and is a welcome addition to the growing capabilities of the UKs component coating facility at Consett County Durham. The facility already boasts an unrivalled range of technologies that includes cathodic arc, magnetron sputtering as well as advanced HIPIMS and smaller scale PACVD DLC equipment.
The system was installed and commissioned during September 2017 by IHI Hauzer Techno Coating based in Venlo, The Netherlands. The 1500 equipment features all the technological advancements we have come to expect from Hauzer. The capabilities of the 4 UBM/PACVD system are impressive. The equipment is capable of depositing smooth nitride PVD coatings as well as the carbon based Tribobond family of advanced tribological DLC coatings.
Chris Constable, Managing Director of Ionbond UK Ltd said: "The investment in the large-scale equipment enables Ionbond UK to address the automotive decorative and precision component markets providing them with access to the largest equipment currently available within the UK. This puts Ionbond at an advantage over its competitors by providing enhanced economies of scale that up until now have only been available from mainland Europe".
Ionbond UK Ltd holds key accreditations such as AS/EN 9100, NADCAP and ISO 13485 as well as OEM specific approvals such as Rolls Royce, Airbus and many more. It offers coating services from two coating facilities (Consett and Mansfield) wvqea serving customers in the Industrial Component (Aerospace, Oil & Gas and Racing), Luxury Decorative, Medical and Cutting & Forming Tool Industries. During 2017 additional coating equipment capacity has also been added to the Mansfield Tool Coating Centre by way of a Tetrahedral Amorphous Carbon (Tetrabond Plus) system providing ultra-hard hydrogen free DLC coatings to meet the needs of non-ferrous and composite cutting as well as aluminium forming for automotive applications. Additional cutting tool coating capacity is planned during 2018 to meet increasing demand.
Ionbond is part of the Heat Treatment and Surface Engineering business unit of the IHI Group. The business unit is active in providing coating services (Ionbond) and heat treatment (IHI VTN) as well as providing equipment; CVD, CVA and CVI by Ionbond, PVD and PACVD by IHI Hauzer Techno Coating, and heat treatment equipment by IHI Machinery and Furnace Company.
www.ionbond.com For more information please contact infouk@ionbond.com
Source :
Dr. Chris Constable