K-Pop Contest 2016 – Delhi Audition opens on 25th June 2016 at KCC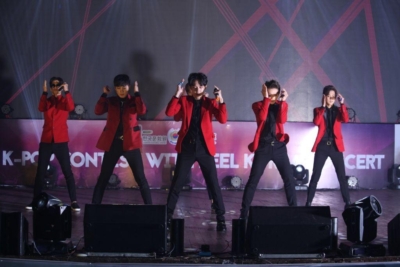 Press Release (ePRNews.com) - NEW DELHI, India - Jun 11, 2016 - The 5th Edition of K-Pop Contest -India 2016 is all set to thrill Indian K-Pop fans. Delhi K-pop fans will have their auditions on Saturday 25th June 2016 at Korean Cultural Centre, Lajpat Nagar, New Delhi. The auditions will start at 04:30 P.M. one can witness the thrilling dance and Song competition on this day. This time we haveEddy and Simba – the celebrity judges from JJCC Band (Jackie Chan Group Korea), K-POP idol group IMFACT, Davis Kim – South Korean-American solo singer-songwriter, Hayana a solo artist in our judge's panel at different rounds.
This year the grandeur and craze of K- POP will be seen in Delhi, Kolkata, Bangaluru, Patna, Mumbai, Chennai and Sikkim with its finale in Chennai on 30th July 2016. K-POP idol group IMFACT will be the judges for the regional round in Sikkim while K-POP Singer/Songwriter Dabit along with Solo artist Hayana will be the judge for the regional rounds in Kolkata and Bangalore.
The winners from the regional round will get an all-expenses paid trip to compete for the Grand Finale in Chennai. The winning team at the grand finale will be awarded all expenses paid trip to South Korea, sponsored by Korean Cultural Centre (KCCI). The winning participants will also be nominated for the Changwon K-pop World Festival.
In addition to the K-Pop contest, Indian K-Pop fans will get the opportunity to witness a mini-concert / fanmeet of popular K-Pop group JJCC on 31st July, 2016. The mini-concert will be organized by Pink Box Events in association with Korean Cultural Centre. For more details, you can check the event page at www.facebook.com/Pinkboxevents
Information on Term and Conditions to participate in K-POP 2016 India festival is available on www.kpopindia.com
For more details, please contact:
koreanculturalcentreindia@gmail.com
011 43345000 /011 43345033
BRIEF ABOUT K-POP
K-pop India contest comes under the banner of K-POP World festival organized by South Korea's Ministry of Foreign affairs. India is pacing fast with the Hallyu wave (Korean entertainment and Pop culture) with other 70 countries participating every year.
Korean Pop most commonly known as K-POP is a musical genre originally from South Korea, characterized by a wide variety of audio visual elements, the term is more often used in a narrower sense to describe a modern form of South Korean pop music covering mostly dance-pop, pop ballad, electronic, rock, hip-hop, R&B, etc. The craze and the jazz for this genre of music are extremely popular and global. The concept of K-POP idols brought an interesting change in the rise of Hallyu wave globally.
In India, K-POP has been rising at a rapid rate ever since the Gangnam style era, a genre which was mostly followed in North Eastern part of India has now become teenagers favourite genre across the country. K-POP Contest provides a unique platform for all to prove their mettle in Korean singing and dancing.
ABOUT Imfact Band
Imfactis a South Korean boy band under Star Empire Entertainment formed in 2016. Their debut mini-album Lollipop was released on January 27, 2016.Before debuting, they performed at the K-Pop Contest 2015 India Grand Finale in New Delhi, India. They gained popularity in India quickly which sped their debut date and since they have a large fan following in India, they have been invited once again to perform in Sikkim.
About JJCC Band
Jackie Chan Joint Culture also known as JJCC, is a South Korean hip-hop boy group formed by Jackie Chan Group Korea which is owned by internationally acclaimed Chinese actor Jackie Chan. The group debuted in March 14, 2014. Their debut single 'At First' was then released on March 24. JJCC is the first K-pop idol group to be formed by Jackie Chan. The name of the band is composed of the man who forms the group and the group's aim. The first "JC" comes from the first letters of the words Jackie and Chan while the second "JC" comes from the first letters of the words join and cultures. When combined together, it is literally "Jackie Chan Joint Cultures" (JJCC) translated to "Jackie Chan, let's spread K-Pop". In the same way, the pronunciation of the group name (Double-JC) stands for "Double Joy Creative" or "Let's create double the joy". The band name is a tribute to Chan as well as his effort to "join cultures" in Asia through music.
About Singer Davis Kim
David Kim better known by his stage name Dabit is a South Korean-American solo singer-songwriter under Koffee Dream Management (KDM). He debuted on his birthdate, December 5, 2013. His fan club name is called "Dalbit" which means "moonlight". He was born and raised in the state of Ohio.
About Artist Hayana
Hayana is a solo artist who debuted as a part of 5 member K-Pop girl group EvoL from South Korea under the label Stardom Entertainment. Currently she is a solo artist under Koffee Dream Entertainment.
Source :
KCC