Kaya Skin Clinic – International Skin Care Clinic Chain Lands in Kuwait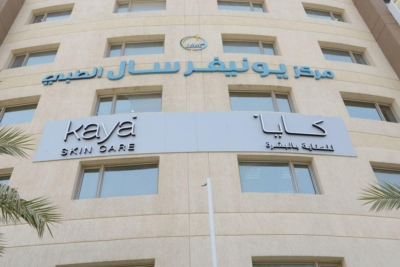 Press Release (ePRNews.com) - DUBAI MEDIA CITY, UAE - Oct 10, 2016 - Kaya Skin Clinic (http://www.kayaskinclinic.com/) – International Skin Care Clinic Chain Lands in Kuwait
Kuwait, October 10, 2016: Kaya Skin Clinic, the largest international skincare clinic chain in the Middle East, offering a wide range of world-class skincare services& products, has embarked on an expansion drive in the region,with its first clinic in Kuwait – marking its entry into its 4th country in the region.
With this new entry, the total number of Kaya clinics hasnow grown to 21 across the region.
In Kuwait, Kaya Skin Clinic has partnered with Ms. Al Beda, for the Dermatology clinicin Al Riggae. The clinic is part of a larger medical centreunder the Universal Medical Centre banner.
Getting into a Joint Venture (JV) in Kuwait is part of Kaya's aggressive expansion strategy, where will see the company venturing into newer markets and increasing its network in the existing markets, in the near future – both through acquisitions, JV's and organic expansions .
In his comments on the expansion, DebashishNeogi, CEO – Middle East at Kaya Skin Clinic, said: "Kaya Skin Clinic is thrilled to launch its center in Kuwait, which is integral to its robust expansion plans in the region. We have plans to further expand our footprint in view of the surging demand for world-class skincare solutions, which our brand represents. We are committed to open new outlets closer to our customers and provide them skincare solutions at its best; where international standards are tailor-made to suit national and personal requirements."
Kaya has been operational in the region for the last 13 years with its first clinic opening in 2003 in Dubai and has gained a wealth of knowledge and experience on skincare needs of women in the region. The brand has received a seal of customer satisfaction six times in a row – winning the Superbrands status for the UAE since 2010.
Kaya Skin Clinic strongly believes in the expertise of a dermatologist (http://www.kayaskinclinic.com/dermatologists) to analyze the individual skin care needs and customize a solution for each client. As no one solution fits all, this has been the core of the brand. Kaya has 37 dermatologists and over 250 trained skilled practitioners and have serviced over 200000 clients till date.
All services at Kaya Skin Clinic conform to the highest quality standards and suited for all skin types, in line with its vision to deliver world-class skincare solutions.
Services at Kaya Skin Clinic range from laser hair reduction (http://www.kayaskinclinic.com/skin-treatment/Laser-Hair-R…), anti-aging services like Botox, Fillers, Threads & PRP, http://www.kayaskinclinic.com/skin-treatment/Acne-and-Acne-Scar-SolutionsAcne & Acne scar reduction, Pigmentation solutions, and body contouring to hair fall solutions. Kaya also has an advanced range of Skincare products that complement its treatments as a home care regime for clients.
Kaya Skin Clinic is conveniently located (http://www.kayaskinclinic.com/clinic-locations) on the 3rd floor, Universal Medical Centre, Bldg. No. 78, Block 14, Al Riggae, Kuwait city, Kuwait and can be reached on +965 24896352 (tel:+96524896352).
About Kaya Skin Clinic:
Kaya is the largest and best trusted chain of skincare clinics in the Middle East. Having the region's largest pool of dermatologists in the region, Kaya takes care of over 200,000 clients at 21 clinics across the UAE, Saudi Arabia, Oman and Kuwait. It's cumulative knowledge and expertise gained from this unrivalled depth of experience makes the Kaya brand unique.
Combined with the deeply insightful approach and discerning adoption of technology, it empowers the clinic's dermatologists to offer an extraordinary level of customized care – be it a skin or hair concern, or the quest for a more youthful look.
www.kayaskinclinic.com
Source :
Kaya Skin Clinic