KNX to zigbbe, now you can cut the cord
Lynxus Technologies develops the first switch containing a full gateway for zigbee control.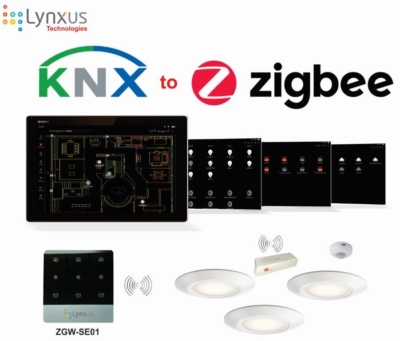 Press Release (ePRNews.com) - LAS VEGAS - Apr 20, 2018 - Until now, KNX was a traditional wired communication technology. The challenge was to take KNX systems and apply it to a progressively wireless environments. Recognizing the cost savings and expansion benefits of wireless for many facilities, Lynxus Technologies worked with KNX to provide an addendum to the KNX standard. The Lynxus ZGW-SE01 is a criterion that will bridge KNX with the zigbee wireless networks.
With an internal gateway and (4) scene touchscreen, the SE01 can be a stand-alone device controlling up to 40 end-nodes or can be networked into a larger infrastructure.
Zigbee, the open source standard designed to be interoperable between wireless devices has applications in commercial, residential, and industrial markets. With KNX you have an international standard for building automation system, combined you can achieve a highly integrated intelligent control system.
Lynxus Technologies modules include AC/AC and AC/DC end-nodes, zigbee embedded LED drivers and area controllers, all with application driven software by the LynxLite App. Perfectly adapted to the KNX system they include lighting and sensor control, energy management and remote access to building automation.
Lynxus Technologies allows KNX to expand beyond the traditional wired range. With zigbee, you have a global communications protocol and standard for a digital radio frequency which is easily adapted.
Connect directly to the KNX bus, Lynxus offers installers the opportunity to link their technology to an even wider range of applications.
Source :
Lynxus Technologies

Business Info :
Lynxus Wireless
5625 S. Arville Ste. A Las Vegas, NV 89118
Las Vegas, Nevada - 89118 United States
Phone: 702-364-9998
Website:
http://www.magtechimd.com