Kolte Patil launches iTowers Exente at Techie's paradise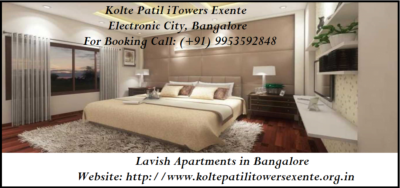 Press Release (ePRNews.com) - Electronic City,Bangalore - Apr 13, 2017 -
Bangalore being one of the best developed cities in Karnataka has been an example of development and prosperity. Whether it is affordable housing or high-end property, the city has seen spurt in new launches with same momentum after the demonetization.
With Kolte Patil iTowers Exente being a prime residential property with the amenities matching world standards, it has become preferential for the many buyers who were looking for the right time for investment. With the property rates and demand rising in Tier II and Tier III cities, it is natural that the projection of Tier I city has boosted. The city like Dubai and Abu Dhabi has been competing with the property rates of Indian cities like Bangalore and New Delhi.
The following statement by Cushman & Wakefield states the dream of Modi Govt and even the current real estate industry has welcomed the Modi Govt initiative by taking great steps for providing boost to the real estate industry. Kolte Patil Exente has become synonymous with the Bangalore skyline as it is the tallest tower in the city.
Anshul Jain, Managing Director, India, Cushman & Wakefield, "The government has been resilient in its efforts to create affordable housing and achieve its target of 'housing for all by 2022,' and is taking steps to build in benefits for developers to participate. Post the demonetization, markets have witnessed a slow uptake of residential properties on account of price and value mismatch. Consequently, developers are also relooking at their strategies to create better value for home buyers. The clarity on affordable housing's definition provided by the government in this year's Union Budget along with the benefits accruing from the infrastructure status to affordable housing projects should bring in a spurt in new launches in the later part of the year, albeit these are most likely to be in suburban and peripheral locations."
This Residential project has one of the best floor size with 1 Bed Flat, 2 Bed + Study Flat and 3 Bed Flat which is ideal for the small family and even those who are looking for property with an investment purpose. The Kolte Patil iTowers Exente price range from 1 BHK at Rs 35.42 Lakhs onwards to 4 BHK at Rs 1.04 Crore onwards, gives an opportunity to those who are looking for a lifestyle which matches their standards.
As a builder, Kolte Patil has become a name of trust and reliability among the residential sectors in Pune and Bangalore. With both the  cities being popular among the IT professionals  who are strongly  based in these cities with IT parks and SEZ's getting a prominent place within the heart of the city, it is good that Kolte Patil Exente Bangalore is located in the Electronic City.
Source :
Kolte Patil iTowers Exente