LaContempo is Offering Quality and Affordable Modern Furniture in Los Angeles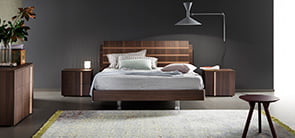 Press Release (ePRNews.com) - Los Angeles, CA - Jul 24, 2017 - LaContempo has been in the limelight of contemporary furniture sales in the Los Angeles for over a decade. The company has a unique collection of locally made and imported European sofa beds, office furniture, dining furniture, and sofa sleepers.  The company recently improved their modern store to 15,000 square feet to store a variety of furniture. Their furniture is made of the most durable materials like stainless steel, metal, chromed steel, and plywood.
Commenting on the affordability of their products, the company's sales manager said, "The furniture industry is very competitive. What makes LaContempo unique is the ability to remove all the intermediaries in our sales channels, import directly from the manufacturer, and revise our tag prices regularly. All these strategies are implemented by LaContempo to avail the most affordable furniture in a cost effective manner. We offer discounts to all customers shopping online for the best modern contemporary bedroom sets available in our stores."
LaContempo conducts regular market research to help them stock some of the trendy furniture brands like Modloft, Rosetto, Damka, and Naeno.  These brands come in all appealing colors and texture. The company stocks all furniture suitable for the indoor and outdoor requirement. Their comfortable and spacious king and queen sized sofa beds and bedroom seats help create the best room mood.  In their inventory is a collection of finely crafted and smartly designed Italian furniture to fit all the house interior décor and designs.
Speaking in one of the trade shows organized in Hollywood, one of the company's sales representatives stated, "Our Company is the best Italian furniture store in Los Angeles. We import the best collection of furniture to meet our customers' demand. Our mission is to provide durable and affordable furniture in the continental America and beyond. We strive to meet the demand from our customers outside the USA by partnering with shipping companies like FedEx, UPS, and DHL. We offer free and timely delivery services to customers within California State. Customers can check the progress of their merchandise delivery on the carrier's delivery website. LaContempo does not charge sales tax on all orders to be delivered beyond continentals America."
Customers are most attracted to purchase products that have a warranty attached to them. LaContempo has incorporated this in all their products to assure esteemed customers free repairs on all defects. The product warranty is subject to expire within a year. Since the company works with the best manufacturers in the world, it is rare to find any substantial defects in their products. Therefore, customers can be assured some original products from LaContempo. The company has employed the most committed customer care team that is willing to listen to all customer requests.  They give guidance to customers on the right selection of furniture to fit their preferences through their live chat.
About LaContempo
LaContempo was founded in the year 2001. The company has been serving the residents of Los Angeles with quality contemporary furniture. To find Italian furniture store in Los Angeles customers can visit LaContempo stores in Hartland Street or their online shopping website.
Source :
LaContempo