Lady In Red Perfumes named Best Ladies Fragrance of the Year
Lady In Red Perfumes has been honored by the America Business Bureau as Consumer's 'Top Choice' Best Ladies Fragrance of the Year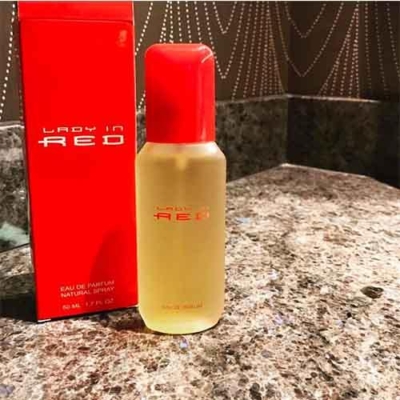 Press Release (ePRNews.com) - GARDEN CITY, N.Y. - May 16, 2017 - Lady In Red Perfumes has been named the recipient of the 2017 Consumer's 'Top Choice' Best Ladies Fragrance of the Year Award by the America Business Bureau, an American national professional association. After considering thousands of qualified nominees throughout the U.S., our esteemed panel of judges has decided that DK USA, Ltd., CelebrityScents, and Dr. Deborah K. Richman exemplify the American Entrepreneurial Spirit and Innovative Professional Achievement. In recognition of the company's consistent dedication, leadership, and commitment to consumers, Lady In Red Perfumes was unanimously chosen for this honor by the members of the Award Committee.
The America Business Bureau is a Washington, D.C. based non-profit organization established to identify and honor the best of American businesses. Since 1979 our mission has been to promote business excellence and celebrate the entrepreneurial spirit across America. Each year we identify companies that we believe have achieved exceptional professional success in their business category. These are companies that enhance the positive image of American business through service to their customers and quality products. The America Business Bureau 'Top Choice' Business Awards are designed to honor U.S. movers and shakers and to highlight their achievements in the business community. We provide an effective way to recognize the accomplishments of business leaders who are doing great things. We are dedicated to awarding entrepreneurs and incredible U.S. businesses that keep our economies and communities strong.
Deborah Richman is the President and CEO of DK USA, Ltd., which is a leading company in creating branded and private label products in fragrance, personal care, and beauty, and is associated with Lady In Red, Ltd. and CelebrityScents, LLC.
A long time beauty pioneer and expert, Deborah has brought dozens of products to market from concept to retail. She has the ability to "think outside the box," and has been recognized and honored by the fragrance foundation for creating top selling retail fragrance brands. She designs collections for her own brands, and collaborates and creates successful brands for her clients.
President and chairman of the America Business Bureau, Harland J. Rothschild IV: "Being named Best Ladies Fragrance recognizes Lady In Red Perfumes as a women's fragrance industry leader and acknowledges the company's dedication, professionalism and integrity. They have proven that Lady In Red Perfumes are more than just a fragrance…it's a state of mind!"
It has been our privilege to recognize and celebrate the success Lady In Red Perfumes. DK USA, Ltd., CelebrityScents, and Dr. Deborah K. Richman truly embody the highest standards of Excellence in the U.S. Business Community.
Keep up the Great Work!
Lady In Red Perfumes
Wear the Energy, Passion, and Power that is RED
Join the Movement!
Source :
Lady In Red Perfumes