LAW Calibration Acquires QC Services of Maine
LAW Calibration, LLC provides a wide range of calibration services in New England and has acquired QC Services, the Maine-based calibration lab, to expand capabilities and offer better solutions to all customers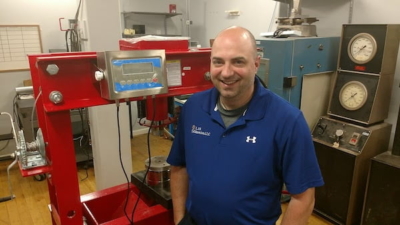 Press Release (ePRNews.com) - BIDDEFORD, Maine - Aug 02, 2017 - LAW Calibration has acquired QC Services of Harrison, ME, including company name and all calibration standards, reference temperature baths, artifact calibrators, and other analytical laboratory equipment and all transportation vehicles. With state-of-the-art laboratory equipment and in-depth technical knowledge and expertise, LAW Calibration is a leading metrology firm in Northern New England.
"I am pleased to announce that we have acquired QC Services calibration lab. I have admired QC Services for years for its technical competency and expertise, and I am proud to serve its longstanding customers," says Louis Waterhouse, Founder and President of LAW Calibration. "I thank all of my family members, my team, and my customers for trusting in LAW Calibration. We are excited to offer additional calibration capabilities to our existing and new customers."
This acquisition blends two companies with ISO/IEC 17025 accreditation (A2LA and PJLA) with strong technical expertise in a broad spectrum of services. The companies' service areas are mostly distinct: LAW Calibration (http://www.lawcalibration.com) specializes in calibrating test and measuring equipment used in construction, industrial, manufacturing, and electrical/electronics applications; QC Services specializes in calibrating equipment used in RO water and wastewater treatment plants as well as in analytical, research, and medical equipment manufacturing as well as in universities and college laboratories. Together, the expanded LAW Calibration will provide a one-stop-shop for all calibration needs.
Every tool that performs a measurement needs to be calibrated; metrology – the science of measurement – plays a role in every aspect of our daily life. "Think about the water bottle you pick up at the store – a machine measures out the right amount of plastic to make it, another one applies the right amount of torque to spin the cap on, and another one tests the quality of the water that goes inside. All of those machines require calibration, as do other measuring hand tools," says Waterhouse. "We now can offer calibration services in the field of analytical instruments, balances, dimensional, electrical/electronics, force, mass, torque, and much more."
Waterhouse learned to become a Metrologist during his service in the US Air Force, and dreamed of opening a calibration lab in Maine upon his honorable discharge. He founded LAW Calibration in 2010, and has invested in the tools and equipment to calibrate equipment at the customer site as well as in his state-of-the-art calibration lab.
LAW Calibration is in the process of moving to its own building in September 2017 with environmentally controlled laboratories and easy access to I-95 in Saco, Maine.
About LAW Calibration
LAW Calibration is an ISO/IEC 17025 accredited laboratory that offers a wide range of calibration services on equipment used in research and analytical laboratories, purified water system and wastewater treatment facilities, in industrial and manufacturing facilities, on construction sites, and for electrical and electronic applications. The company was founded in 2010 in Biddeford, Maine and has grown rapidly to become the largest provider of calibration services in Northern New England. LAW Calibration prides itself on high-quality service and competitive pricing for everyone. All measurements are traceable to SI Units through national metrology institutes (NMI), such as NIST USA, NRC Canada.
Source :
LAW Calibration