Living Room Painting Ideas: Make it Alive with MAGIC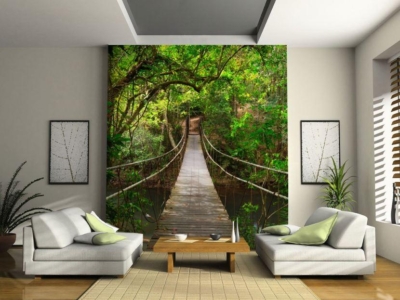 Press Release (ePRNews.com) - TORONTO - Mar 04, 2017 - Want to create the right impression on your guests? Want your neighbors to know about your eclectic taste? Well, you need undertake the expenditure of painting the entire home. You can customize the living room, make it unique and use it as a canvas to showcase your vibrant style and personality.
Do not worry about the budget. Paint is a resourceful way that can add magic to your home without creating a financial burden on you. It has the potential to make the living room alive and fun. Here are a few painting ideas to help you create MAGIC in the living room:
· M – Mural
Want a one-of-a-kind work of art for the living room? Well, you can hire mural artists to conceptualize and create a mural on the wall. You can give your creative ideas and make it to show your personality. You can choose contemporary styles or classic ones. If you are nature lover, ask the artist to paint a floral theme, botanical prints, animal theme, etc. You can even opt for a calming beach mural to give a peaceful vibe to the room.
· A – Accent Walls
Are you ready for a bold color in the living room? But, do you think it would be too much for the entertaining area of your home? Well, you have an option in the form of an accent wall. It can be the focal point for the living room and a center of attraction for the guests. If you are a color-lover, you can use multiple colors on the accent wall. Think of stripes or blocked patters to create a beautiful accent wall. You can also consider wooden pallets or wallpaper for the accent wall.
· G – Geometric Patterns
Geometric patterns never go out of style! If you want to add a splash of color to the living room, a geometric pattern is the best way to do it. Either choose a wall for the pattern or just a part of the wall and create a perfect conversation piece in the living room. You do not have to stick to simple lines. You can make a bold statement with geometric patterns. Choose a dark color with a subdued color to make a subtle but strong statement. On the other hand, you can go all out with bright colors for a geometric pattern to make it look modern and quirky.
· I – Innovative Options
Do you want something as unique as your personal style? Why not consider the following innovative painting options for the living room?
1. A customized message can become a perfect way to make a bold statement.
2. Choose a typographical design for the living room and paint a large monogram on the wall to give it a personalized look.
3. You can blur the boundaries between the ceiling and the walls with the help of ombre effect.
4. Faux molding and faux wood patterns can create an elegant look in the living room without the need of an exorbitant budget.
5. Paint the room in stripes of different width. You can select bold colors to emphasize the vibrant ambience. Also, consider chevron print.
· C – Color the Ceiling; Color the Floor
When it comes to the living room, think more than the walls. You can paint the ceiling as well as the floor in beautiful colors to welcome the guests with a riot of colors.
For the ceiling, you can consider a sky-theme. You can even paint the ceiling in a bright shade and choose lighter shades of the same color for the walls. Also, stripes or free-hand patterns for the ceiling are trendy.
Painting the floor is the simplest way of giving a make-over to the living room. If you have a concrete floor, you can paint it in a solid color or create a checkerboard look to make the living room fun. Alternatively, you can go for free-hand design or stencil design for a beautiful looking floor. You can stain the concrete for a wooden effect or a natural stone effect.
Painting the living room is a huge investment. Not only you will spend money on it, you will also put your reputation on the line. If you commit a mistake, you will end up ruining the look of the living room. So, make sure that you consider several ideas and talk to different painting contractors before making a decision.
Painting the living room is a big adventure that you will never forget. So, it is essential to hire the best residential home painting contractor in Toronto to help you out. Get in touch with https://www.paintingcontractortoronto.ca and our team of painters will deliver fine painting results. Submit an online inquiry for cottage painting, condo painting as well as commercial paining.
Source :
PaintingContractorToronto.ca