Locally owned Beyond a Word offers the highest quality canvas prints made right here in Australia
The Queensland based Personalised Art business Beyond a Word has been making waves as the first Personalised Gifts Company to make the step across the waters to receive an accolade in the US for quality custom art.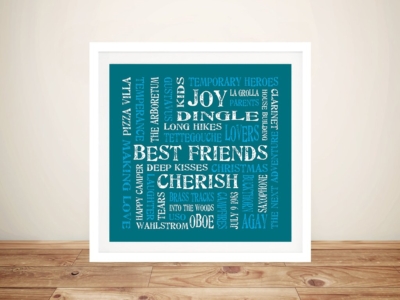 Press Release (ePRNews.com) - Brisbane, Australia - Jul 10, 2018 - With more than 25 distinct typographic art styles and over 150 different designs Beyond a Word can create canvas and paper prints for anyone and for every occasion. They offer three choices of the finished product: archival fine paper, cotton canvas and framed fine art paper prints. Beyond a Word also offers several different custom sizes and layouts to choose from to make creations uniquely distinct from one another.
Custom canvas and paper prints are made using your choice of words, phrases and photographs. Personal memories are made into gallery-quality art guaranteed to last for several decades keeping the same striking vibrancy as from the day you first receive your purchase.
Beyond a Word now ships to Australia, the UK and the US for free and ships orders globally at the lowest possible rates you can find. All shipments are packaged in-house and secured in bubble wrap, cardboard and cardboard tubes as appropriate to ensure purchases arrive in absolutely fine condition.
About Beyond a Word
Beyond a Word is an Australian-based canvas letter art manufacturer. It specialises in personalised letter canvas and paper prints and is committed to creating all of its artwork in Australia using only the highest quality materials and the latest in ink and printer technologies. Their work and extensive gift ideas have been featured in Australia Vogue, Real Living, In Style, and Australian House & Garden amongst many more publications.
Contact
To learn more about Beyond a Word, please contact
4/41 Gateway Drive
Nooseaville, 4566, QLD
1 300 632 332
07 5474 2129
info@beyondaword.com.au
Source :
Beyond a Word Personalised Gifts