Mango Animate Launches Its 2D Character Creator for Inspiring Creativity
Mango Character Animation Maker is a 2D character creator that helps users create real-like animated characters with bone movement, greatly vitalizing videos.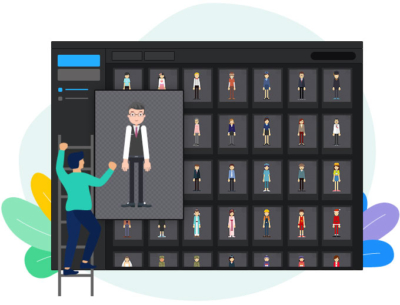 Press Release (ePRNews.com) - Hong Kong, China - Dec 14, 2022 - It usually takes a lot of time and effort to create 2D animated characters that move. Content creators may often result in hiring professional services for their animated characters. These services can be rather costly and it is hard for users to add personality to their characters. Luckily, Mango Animate provides their customers with a user-oriented 2D character creator – Mango Character Animation Maker (aka Mango CM) that lets users add bone movement to their animated characters.
Mango Character Animation Maker is an animation software program that allows users to create 2D animated characters with ease. Users do not need any technical skills to operate the software. This 2D character creator can turn a static image into an animated character by adding skeletons to imitate natural movement.
Mango CM has a vast library of pre-made animated characters. Users can choose from the hundreds of animated characters to use in their projects. The collection of ready-to-use motions makes it easy and fast for users to add body movements to their characters. The convenient drag-and-drop feature of this 2D character creator eliminates the need for technical skills. Users also have access to a plethora of dynamic facial expressions to bring their characters to life.
The 2D character creator has infinite customization options. It allows users to swap between dozens of outfits and accessories to give their animated characters a personal touch. The software makes it easy to add uniqueness to a character with distinct facial features and decorative items.
Mango CM empowers users to make their 2D characters move and pose more logically with the intuitive Inverse Kinematic (IK) feature. This feature comes included with the 2D character creator and enables users to easily make intuitive and precise animations. Adding audio to match the movement of characters will greatly amaze audiences. The finished projects can be exported in several formats, including MP4, PNG, MOV, and animated GIF, and shared across all platforms.
"Gone are the days when animated 2D characters used to move like robots," CEO of Mango Animate, Winston Zhang says, "Our 2D character creator comes with an intuitive Inverse Kinematic feature. This feature makes bone movement more precise and intuitive, which is well-received by our users."
More information about the 2D character creator is available on Mango Animate.
About Mango Animate

Mango Animate is a leading developer of animation video software. The company gives its users easy-to-use tools to create animation videos for different use purposes.
Source :
Mango Animate Software Co., Ltd.