MEET THE ARTISTS' 29th Annual Exhibition and Gala @ Central Indianapolis Public Library: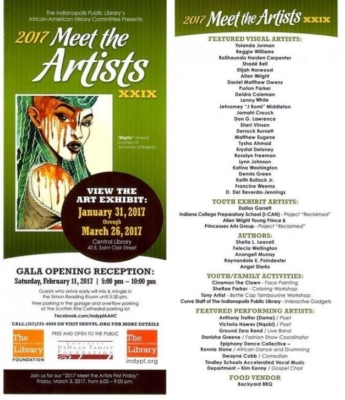 Press Release (ePRNews.com) - INDIANAPOLIS - Feb 10, 2017 - The 29th Annual presentation of MEET THE ARTISTS'
The Opening Gala Celebration will be held on Saturday, February 11th, 2017 from 5:00pm – 10:00pm.
This is one of the largest attended events, last year over 2000+ of you joined us making it a grand exposition. Diverse Artworks representing a wide variety of artistic mediums will be on display throughout the Library building January 28th, 2016 through March 26, 2017.
Presented as a showcase for regional African-American art, the Meet The Artists' exhibition is available for Free! public viewing during regular Central Library hours.
This year's 24 Participating Visual Artists include:
YOLANDA JORMAN (quilts), REGGIE WILLIAMS (acrylic), ROSHAUNDA HARDEN CARPENTER (mixed media), SHADE BELL (acrylic), ELIJAH NORWOOD (acrylic), ALLEN WRIGHT (acrylic, pencil, ceramics), DANIEL MATTHEW OWENS (acrylic), PURION PARKER (oil), DEIDRA COLEMAN (acrylic), LEONARD WHITE (photography), JEHROMEY MIDDLETON (acrylic, oil), JAMAHL CROUCH (acrylic, oil), DON G. LAWRENCE (1927 – 2015) (acrylic), SHERI VINSON (acrylic), DERROCK BURNETT (acrylic), MATTHEW EUGENE COOPER (acrylic), TYSHA AHMAD (jewelry), KRYSTAL DELONY (designer hand bag), ROSALYN FREEMAN (jewelry), LYNN JOHNSON (Jewelry), KATINA WASHINGTON (jewelry), DENNIS GREEN (metal sculpture), KEITH BULLOCK JR. (metal sculpture), FRANCINE WEEMS (human-size dolls), and D. DEL REVERDA-JENNINGS (social commentary installation entitled "MONSTER . . . MOURNING THE SHADOWS – AN AMERICAN NIGHTMARE" targeting the outrage at what has become a pattern of hunting down black males and killing them in cold blood through racially driven hatred , along with a display of mixed media sculptural work).
Also on display will be the Youth Art Exhibit, "Reclaimed," that demonstrates the ingenuity of 7th and 8th grade students from Indiana College Preparatory School (I-CAN) in creating meaningful art works from found and unrelated objects. Other youth exhibits will feature works from the Young Prince & Princesses Arts group and seven-year-old Dallas Garrett.
Youth Activities include: Bottle Cap Tambourine Craft, Face Painting, Interactive Gadgets and youth and adult Coloring workshops.
We have amazing performers this year, including; "Tindley Schools Accelerated Vocal Gospel Music Choir"; "Epiphany Dance Collective-featuring Ronnie Stone"; 2 dynamic spoken word artists, "Dome" and "Niobic"; Comedian "Dwayne Cobb" and the live band – "Ground Zero".
Five local Authors will be on hand to sign and sell their works, including; Sheila L. Leavell (Moments of Reflection), Felecia Wellington (I Write in the Dark: My Truth Be Told), Anangell Murray (Life, Hope & Pain), Raynandole E. Poindexter (Legends of a Lion), and Angel Starks (The Undercover Business Woman).
Fashion show coordinator – "Danisha Green" presenting FashionTrek: The Next Generation.
Anthony Radford __ Founder / Curator / Program Development – Artist in Residence – The Indianapolis Public Library_INDYPL.
Our food vendor this year is Backyard BBQ. This Gala Opening is set to be an evening of remembrance. As always this is a Free and Open to the public event.
We welcome you, your family and friends to come out to this great event … Free limited parking for the Gala will be available in Central Library's underground garage, with overflow parking available at the Scottish Rite Cathedral.
Meet The Artists' is presented by the Library's African-American History Committee (AAHC).
For more about this FREE! Annual Library event.
INFO: 317-275-4099 ,
http://www.indypl.org/arts/mta/2017/ ,
https://www.youtube.com/watch?time_continue=13&v=ghB0… ,
Source :
Indianapolis Public Library