Mermaid Jeanne Carmen – New Artwork by AnaRosa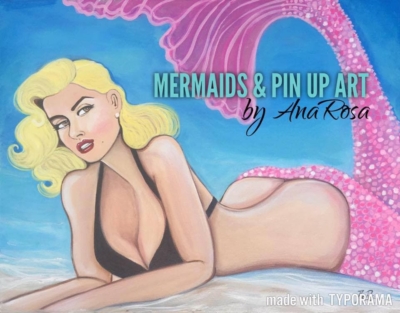 Press Release (ePRNews.com) - ST. AUGUSTINE, Fla. - Jun 14, 2017 - Smashing New Debut… of an incredible new painting of Pinup Icon JEANNE CARMEN by the amazing artist ANAROSA
The painting was officially unveiled on Friday June 2nd at the LIMELIGHT THEATER in ST. AUGUSTINE, FLORIDA and it will be on public display from June 2 – 25, 2017
The Limelight Theater will also debut the new play THE NANCE – The raucous world of burlesque's heyday is brought to life in this Tony-award-winning Broadway play.
As you enter the theater, the amazing art of ANAROSA will welcome you to your seats.
The play will run Thursdays thru Sundays, June 1 – 25, 2017
The Limelight Theater is located at
11 Old Mission Avenue, St. Augustine, FL, 32084
(904) 825-1164
For more info on ANAROSA'S amazing artwork, check out the link to her website at the Official Jeanne Carmen Website
Jeanne Carmen (august 4, 1930 – December 20, 2007) was an American model, pin-up girl, trick-shot golfer, and B movie actress.
In 1998, Carmen was the subject of a tv biography titled "Jeanne Carmen: Queen of the B-movies", on the series E! True Hollywood Story. The show stated that Carmen maintained a "dangerously close friendship with Marilyn Monroe and the Kennedys" and that after the death of Monroe, Carmen was told to leave town by chicago mobster Johnny Roselli who was working for chicago mob boss Sam Giancana. Carmen, believing her life was in danger, fled to Scottsale, Arizona, where she lived incognito for more than a decade. Carmen abandoned her platinum blonde locks, had three children and lived a quiet life, never mentioning her prior life in hollywood.
https://jeannecarmen.com/2017/06/02/mermaid-jeanne-carmen…
Source :
The Official Jeanne Carmen Website

Business Info :
Brandon James Enterprises
PO Box 11812
Newport Beach, California - 92656 United States
Phone: 949 322 5943
Website:
http://www.jeannecarmen.com