MFE Rentals Partners With Boston Dynamics to Offer Autonomous Agile Robot, SPOT, to Customers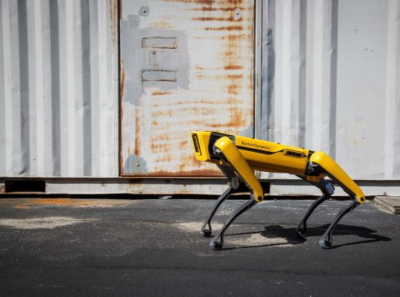 Press Release (ePRNews.com) - HOUSTON - Oct 19, 2020 - Inspection solutions provider MFE Rentals announces its partnership with global mobile robotics leader Boston Dynamics today, giving MFE Rentals customers premier access to the groundbreaking SPOT® robot. Boston Dynamics designed SPOT® to go where other robots cannot go and perform a broad number of tasks, making it a revolutionary asset across myriad applications.
Operators may use Spot to monitor remote or hazardous environments, automate documentation of construction progress, and provide situational awareness in remote settings. The modular platform is customizable and may be reconfigured for various use cases. Spot also may be outfitted with a number of payloads such as the Spot Cam to catch spherical images, the Spot ARM enabling mobile manipulations such as opening doors and grasping objects, and Spot CORE which provides dedicated processing for applications requiring on-robot computation.
Spot autonomously navigates over or around obstacles in its path using the real-time mapping conducted by the perception system. Spot also comes equipped with Autowalk, an easy-to-use tablet feature that allows users to record and replay autonomous missions. MFE Rentals says Spot is a revolutionary tool that opens up many opportunities for its customers as they integrate this new technology into their business operations.
"With Spot, we are getting a piece of the future right now. It opens up many capabilities for asset managers to remotely monitor facilities, inspect progress, remotely perform inspections, and so much more. Spot is remarkably intuitive and can be adapted to many use cases. We're proud to include it in our toolkit for our customers," said Jason Acerbi, MFE Rentals Eastern US General Manager.
 
MFE Rentals is a leading NDT, RVI, Environmental, and UAV solutions provider with offerings that go well beyond equipment rentals to include sales, calibrations, repairs, and training. As solution providers, MFE's team helps customers see the possibilities by keeping them informed of innovative inspection applications that save time, save money, and ensure the safety of their operators.
Boston Dynamics SPOT®robot is now available through MFE Rentals. For more information, go to https://www.mferentals.com/product/spot/ or contact Jason Acerbi at jacerbi@mferentals.com.
MFE Rentals
MFE Rentals is your one-stop inspection resource for equipment rentals, sales, calibrations, repairs, and training. With everything from Ultrasonic Thickness Gauges to Material Testing Equipment, Ground Penetrating Radar and top industrial drone equipment, MFE Rentals has what you're looking for. The MFE Group was founded in 1994 with the opening of MFE Rentals parent company MFE Enterprises, a family-owned and operated inspection equipment manufacturing company. In 2009, MFE Enterprises opened MFE Rentals in an effort to provide their customers access to a full catalog of inspection equipment through rentals or sales. The MFE Group now has over 14 locations across the United States, Canada, Mexico, and Middle East. For more information, please visit www.mferentals.com.
Source :
MFE Rentals

Business Info :
MFE Rentals
150 Holder Lane
Dripping Springs, TX 78620