Michael O'Dell Wrote The Book On Funeral Trusts
Michael O'Dell and DelcoUSA have been marketing the Irrevocable Funeral Trust for over 10 years and have become the #1 Funeral Trust marketer in the U.S.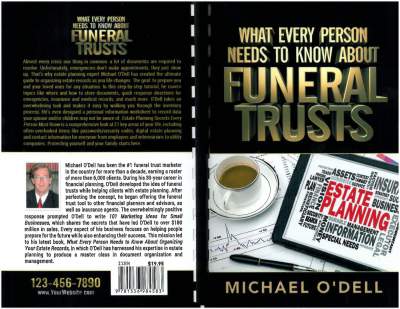 Press Release (ePRNews.com) - ELKHORN, Wis. - Aug 15, 2017 - Wouldn't you as an agent like to have a book that clearly states the importance of a Funeral Trust to your clients and why the need is so great? We have what you need, Mike has written the book on Funeral Trusts "What Every Person Needs To Know About Funeral Trusts". In the book Michael O'Dell outlines the benefits of this crucial financial tool and guides readers through key steps such as naming a financial power of attorney and finding referrals for skilled funeral trust planes. As the #1 funeral trust marketer in the U.S for over a decade, O'Dell delivers a thorough yet easy-to-understand tutorial that helps people of all ages better prepare for the inevitable. You'll learn that funeral trusts can't be confiscated by nursing home or creditors, aren't subject to income or estate taxes, and are available to anyone because they are guaranteed issue. Plus, funeral trusts are portable and flexible, so they go where you go.
If you would like more information in the Funeral Trust of DelcoUSA please call our office at 877-336-7782 or visit our website at http://www.delcous.com
Source :
DelcoUSA

Business Info :
DELCOUSA (DELCO BROKERAGE)
P.O. Box 385 715 W. Walworth Street
Elkhorn, Wisconsin - 53121 United States
Phone: 877-336-7782
Website:
http://www.delcousa.com