Miko Launches Emergency Pipe Repair Kit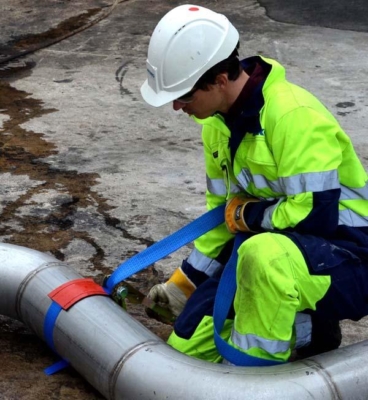 Press Release (ePRNews.com) - OSLO, Norway - Jul 26, 2016 - Detailed study by Miko has resulted in a system that uses specially formulated rubber patches that are slid over a leak and held in place by ratchet straps. The kits can be used to seal leaks in pipes ranging from 2-inches to 20-inches in diameter and can cover holes up to 1-inch across. Extensive testing by the Miko development team has demonstrated that users who employ the correct application technique can successfully seal a leak through which liquid is escaping at pressures up to 10 Bar. The success of the development has resulted in Smart Fuel – which is owned by St1 and operates Shell's gas station network in Norway – buying 16 kits which have been distributed among its storage tank farms where they are now available in case of emergency.
Tom Solhaug, Manager of the Sjurøya Depot in Oslo, who took the initiative and was responsible for the procurement of the kits at St1, says: "We are very happy with the final product as it is very reassuring for us to know that we now have the ability to cope with leaks in a quick and professional manner. By adding the pipe sealer kits to our emergency repair equipment we are now better prepared to deal with any problem, which must be as reassuring for our neighbours as it is for our own personnel."
By using a specially formulated rubber for the patch it is possible to achieve the optimum sealing performance regardless of the nature of the liquid that is escaping. This also makes it suitable for use in many areas of the offshore oil and gas industry as well as the marine, chemical and construction industries and also for naval and armed forces applications.
The pipe repair kit has evolved from Miko's tank sealer kit which is being used to equip tank storage facilities where any leaks could prove costly and environmentally damaging. As tank farms age the tanks and their piping become vulnerable to corrosion that can result in sudden and unpredictable failure. The Miko emergency kits are now being held on site by the more responsible tank farm operators who would otherwise have no option other than to watch the escape of thousands of gallons of valuable product.
Miko is a Norwegian company based in Oslo that specialises in the design and manufacture of tools and products for the marine salvage and offshore engineering industry. It has gained a reputation as a design "hot shop" with particular expertise in the use of magnets and magnetism during salvage and recovery projects.
For more information visit http://www.mikomarine.com/products/pipe-sealer-kit/
-ENDS-
Commercial enquiries contact:
Nicolai Michelsen, general manager
Miko Marine AS
Ruseløkkveien 26
PO Box 1534 -Vika
N – 0117 Oslo
Norway
Tel + 47 46 90 50 00 Fax + 47 22 83 65 15 Mob + 47 911 70 452
email: info@miko.no website: www.miko.com
Source :
Miko Marine AS