Milestones of a special company – DENSO celebrates its 30 year anniversary in Europe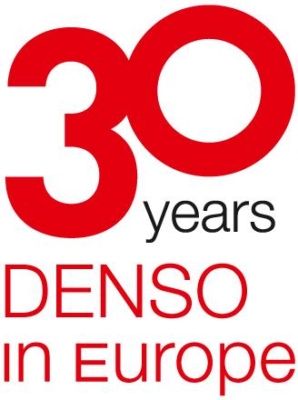 Press Release (ePRNews.com) - DUSSELDORF, Germany - Aug 10, 2016 - DENSO WAVE is connected to the DENSO Corporation, the DENSO Auto-ID Business Unit and the Toyota Group. / Manufacturer of Scanners and Hand Held Terminals used for automatic data capture. / Inventor of the QR Code and developer of the first CCD barcode reader. / First barcode scanner sold in Europe in 1986. / DENSO Auto-ID's European Headquarters in Düsseldorf, Germany, since 1989. /
Düsseldorf. DENSO is one of the many companies that belong to the Toyota Group. It was founded in the late 1940s, and has been successfully developing and manufacturing automatic data capture equipment to this day. The name DENSO consists of two parts – DEN and SO. These stand for the abbreviations of the words Den-Ki (electric) and So-Chi (equipment). DENSO WAVE is a subsidiary and mainly a manufacturer for scanners and hand held terminals used for automatic data capture. One of DENSO's latest innovative scanners is the AT30Q. It was just launched onto the market and offers three major benefits – it helps increase sales in a store-front use, supports an easy touch scan mode and also provides more stable and fast scanning. The successful launch is based on the scanner's outstanding operability, excellent scanning performance coupled with several scanning functions, its robustness and its durability. In addition to the AT30Q, the company is planning on launching two more innovative products in DENSO Auto-ID Business Unit's Jubilee Year: the BHT-1200-RFID and the QK30-IC. These scanners employ RFID and NFC technologies. Further information on DENSO, the QR Code, scanners, handheld terminals, and DENSO Auto-ID can be found at http://www.denso-autoid-eu.com/en.html.
The DENSO Auto-ID Business Unit has had its headquarters in Düsseldorf, Germany, since 1989 and owns the exclusive sales and marketing rights for DENSO WAVE products in Europe. Back in 1986, the first CCD barcode scanner was sold in Europe, which can be considered the official start of the company's barcode business in Europe 30 years ago. But how have the experts for mobile data capture become so successful? Let's take a look back into the late 1930s. In 1937, the Toyota Motor Co., Ltd. was founded in Toyota City, Japan. Twelve years later, in 1949, NIPPONDENSO Co., Ltd. was separated from the Toyota Motor Co., Ltd. and became its own company. NIPPONDENSO was the forerunner of today's DENSO Corporation. Its initial production sectors were car air conditioning, heaters, automotive electrical, radiators, and filters. In 1982, the company's first huge milestone was achieved: The CCD barcode scanner was originally invented. Four years later, the first CCD barcode scanner was sold in Europe. History was made. Further information about the DENSO products can be found here: www.denso-autoid-eu.com.
A lot has happened since the NIPPONDENSO ID SYSTEMS DIVISION of Toyota Tsusho Europe S.A. established the European headquarters in Düsseldorf, Germany, in 1989. From 1990 to 1993, several products have been produced and launched, starting with the BHT-2000 and the BHT-4000. The biggest milestone followed in 1994, when not only the one millionth CCD scanner was produced but also the QR Code was invented. The latter resulted in an overwhelming worldwide adoption and the production of a suitable scanner, the QS-10 series in 1996. One year after the invention of the QR Code, in 1995, the 150,000th handheld terminal was produced and the BHT-5000 was introduced. Yet another year later, the company name was changed from NIPPONDENSO CO, LTD to DENSO Corporation. In 2001, DENSO WAVE INCORPORATED became a subsidiary of DENSO Corporation and henceforth a separate company, specializing in automatic data capture, industrial robots, and controllers. In 2006, the NIPPONDENSO ID SYSTEMS DIVISION of Toyota Tsusho Europe S.A. was renamed TTID Systems, which has recently changed to TT Network Integration Europe GmbH in 2015. Numerous products have continuously been launched and the new BHT-1200-RFID as well as the innovative QK-30-IC will be yet two more important milestone products developed by DENSO's mobile data capture experts. The BHT-1200-RFID and QK-30-IC are going to be introduced to the market in fall 2016.
For the European market, the DENSO Auto-ID Business Unit is the contact window for all enquiries on QR Codes, mobile data capture, handheld terminals and scanners. The durable and robust terminals and scanners manufactured by DENSO are to be found in storage, logistics, POS, production and field & sales automation applications. Short and informative video clips about the terminals, scanners and solutions from the DENSO Auto-ID Business Unit can now be viewed on YouTube. The clips include the 20th anniversary of the QR Code, a company presentation, and introductions to the various devices for mobile data capture such as the BHT-1500, BHT-1400 and the GT20 scanner. For more information, click on the link: https://www.youtube.com/channel/UCHp4Yboj7IccPlSeRxQ6yBQ.
QR Code is a registered trademark of DENSO WAVE INCORPORATED.
DENSO Auto-ID Business Unit
Immermannstr. 65 B
D-40210 Düsseldorf
Phone +49 (0)211 88 252 450
Fax +49 (0)211 88 252 502
Managing Director:
Takashi Hara
Marketing Assistant:
Sina Haupt
Phone +49 211 88252 403
E-Mail:
Sina.Haupt@denso-autoid-eu.com
Website:
http://www.denso-autoid-eu.com/en.html
Press Contact:
PPR Hamburg
Sinstorfer Kirchweg 18
D-21077 Hamburg
Phone +49 (0)40 32 80 89 80
Mobile: +49 (0)170 310 79 72
DENSO is one of the world's leading manufacturers of mobile data capture devices. We follow one mission: Driven by Quality – maximum quality in mobile data capture. Decision-makers in the fields of retail, logistics and production rely on DENSO for their business requirements and in implementing the Internet of Things. DENSO is a member of the Toyota Group and is exclusively represented in Europe by the DENSO Auto-ID Business Unit of TT Network Integration Europe: http://www.denso-autoid-eu.com/en.html.
Source :
DENSO Auto-ID Business Unit