Ministry of Economy to strengthen economic & trade relations with Chad
Civil aviation, infrastructure & agriculture among main areas of cooperation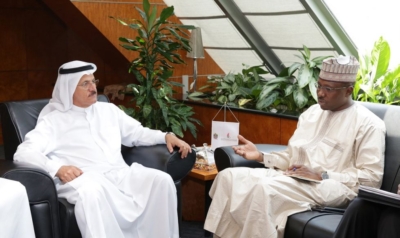 Press Release (ePRNews.com) - DUBAI, UAE - Aug 28, 2017 - H.E. Eng. Sultan bin Saeed Al Mansoori, Minister of Economy, recently received H.E. Mohamed Hamed Kawa, Minister of Commerce and Industry of the Republic of Chad, and his accompanying delegation at the headquarters of the General Civil Aviation Authority (GCAA) in Dubai.
The two sides discussed the strengthening of economic relations between their countries, the importance of cooperation in the field of civil aviation, the potential to increase trade, and the exploration of investment opportunities in priority sectors. They also touched on strategies for introducing the UAE's business community to major economic and investment opportunities in the Republic of Chad.
The meeting was attended by H.E. Eng. Mohammed Ahmed bin Abdul Aziz Al Shehhi, the Ministry of Economy's Undersecretary of Economic Affairs; H.E. Saif Mohammed Al Suwaidi, Director General of the GCAA; H.E. Juma Mohammed Al Kait, the Ministry of Economy's Assistant Undersecretary for Foreign Trade Affairs; and Amer Al-Menhali, Chargé d'Affaires of the UAE Embassy in Chad.
H.E. Eng. Al Mansoori voiced the UAE's commitment to reinforcing its economic, trade and investment relations with the Republic of Chad, noting the great potential for productive cooperation in these areas. He emphasized the importance of meetings and intensified dialogue in identifying frameworks for future cooperation; exploring opportunities; and introducing the UAE's business community to the economy, legislative and regulatory frameworks, and the investment elements of the Republic of Chad's key sectors.
H.E. Eng. Al Mansoori reported that trade with Chad has grown significantly over the past few years, rising from USD 177 million in 2015 to USD 245 million last year.
The Minister said that civil aviation is an important area of cooperation which provides a foundation for promoting various other commercial and investment activities. He noted that Chad's strategic geographical location makes it a major corridor for international aviation, and so the possibility of organizing direct flights between the two countries should be considered.
H.E. added that the UAE also looks forward to exploring cooperative prospects in several other sectors supported by Chad's economy, most notably investments in infrastructure, agriculture and livestock.
For his part, H.E. Kawa expressed his country's interest in forging stronger economic ties with the UAE and benefiting from the latter's proven economic model which has enabled sustainable progress. In this regard, H.E. Minister Al Mansoori emphasized the UAE's keenness to cooperate with Chad in transferring knowledge and exchanging experiences.
Chad's Minister of Commerce and Industry also highlighted the importance of ongoing preparations for an economic forum on trade and investment opportunities in the Republic of Chad to be held in Abu Dhabi in September. He said that the event will be an important opportunity for reviewing Chad's economic environment and its vibrant and promising sectors. He added that it will open the door for UAE investors to learn more about Chad's existing economic system, the country's efforts to further develop its economy, and the mutual benefits of such activities to the friendly countries.
Source :
Orient Planet PR & Marketing Communications