Mission Education Noida Team Places Its 7th Donation Box at Maharana Pratap Public School, Noida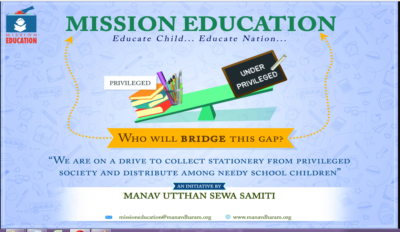 Press Release (ePRNews.com) - Noida, Uttar Pradesh, India - May 14, 2017 - Mission Education Noida team went to Maharana Pratap Public School, Sector 62A, Noida for placing a Donation Box in which the students will be donating their spare stationery items which will be distributed among the under-privileged students. Maharana Pratap Public School's Principal and Teachers were very co-operative with the visiting team and supported them to address the assembly in the school premises about the initiative.
Seven volunteers from Mission Education Noida Team visited the School to promote and place Donation Box. The volunteers Vinod Joshi, Archana Mundani, Himanshi Sharma, Vipin Nirwal, Neharika Singh, Amit Singh & Kapil khattar represented Mission Education Noida team and communicated about the benefits of the initiative.
What Is  MISSION EDUCATION?
Donate Stationery Item for Needy One: The mission brings out the concept to help the under-privileged children to facilitate their education with the help of privileged ones which is carried out by placing boxes at various schools and the work is being done by volunteers of Mission Education stated by one of the volunteers, Vipin Nirwal.
No Cash, No Cheque:The mission aims at collecting donations for Stationery items like books, pencil, erasers and other helpful items that might help other students who cannot afford these items due to recurring expenditure. This way numerous hands can lend their support by donating smaller items without taking much burden on themselves.
About Mission Education:
Mission Education , an initiative by MANAV UTTHAN SEWA SAMITI (Regd.) which is run by Shri Shradhey ji since 2014 in India, Nepal, Bhutan, Kenya, South Africa and Mauritius. In India, Mission Education team has approached 900+ Privileged Schools which has helped 1.6+ Lacs under privileged Students. The volunteers from Mission Education have started placing the donation boxes at different schools to achieve the purpose in order to help the under-privileged students of the society.
Mission Education – An initiative by: MANAV UTTHAN SEWA SMITI (Regd.)
Contact:
Head Office Address:
Manav Utthan Sewa Samiti
2/12East Punjabi Bagh,
New Delhi, 110026
Name: Shri Narendra Kumar Ji (All India Youth Coordinator)
Phone:  +91 9793411008
http://www.manavdharam.org