Motorcycle Riders Create One-of-a-Kind Custom Wheelchairs at Full Throttle Law Event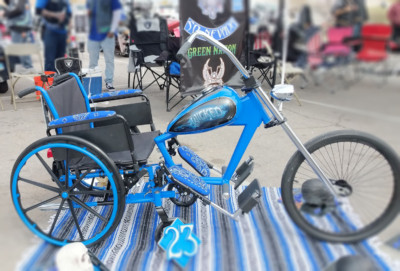 Press Release (ePRNews.com) - LAS VEGAS - Mar 04, 2020 - As "riding season" arrives in Las Vegas, the odds of a serious accident involving a motorcycle increase. When these accidents occur, the rider is far more likely to be seriously injured than a person in a car and may need special medical care or financial assistance. Charities such as the BikerDown Foundation exist to provide that little something extra, whether it be help with rent payments or medical equipment, such as wheelchairs.
When BikerDown needed help replenishing its supply of medical equipment in Las Vegas, the community stepped up in a big way. An entire moving truck was filled to the brim with stacks of wheelchairs, medical walkers, crutches, beds, mobility chairs and more at the first-ever wheelchair customization contest and medical equipment drive put on by Full Throttle Law, a local injury law firm.
Attorney Jared Richards, a personal injury attorney at Full Throttle Law, sponsored the wheelchair customization contest by donating 12 wheelchairs to the event and covering all the event expenses. Each wheelchair was given to a different motorcycle group and they had 30 days to bring their vision to life. Some groups added decoration, some added running lights, all of them added their unique flair. Then, on February 29, everyone gathered at Henderson Harley-Davidson for the medical equipment drive.
The winning group, "Wicked MC", created a hybrid between a motorcycle and a wheelchair. Other groups created chairs around themes such as firefighter uniforms, military weapons, steampunk, and more. All these chairs were then given to BikerDown for the use of injured riders in the future.
Dozens of additional pieces of medical equipment were donated by visitors and contest participants. Raffles and donations also raised a significant amount of cash, which will go directly to injured riders in need with no overhead removed.
Injured riders should contact BikerDown Foundation if they need help. Whether they have a legal case or not, BikerDown can probably lend a helping hand.
Media Contact:
​Shannon "Dazzlin" Venturo
​Phone: (833) 702-7433
​Email: info@fullthrottlelaw.com
Source :
Full Throttle Law