Mrs. H. H. A. Beach's "Ecstasy" with Obbligato transcribed for Alto Flute or Clarinet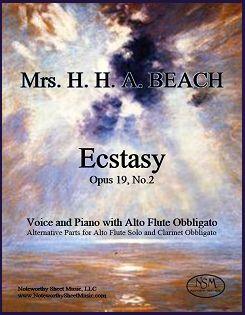 Press Release (ePRNews.com) - SOMERVILLE, Mass. - Feb 19, 2017 - Noteworthy Sheet Music, LLC (NSM) is an online sheet music publishing enterprise with a catalog of >150 editions, most of which are unavailable from other sources. NSM specializes in, but is not limited to, sheet music for flute and alto flute. They offer original contemporary works by distinguished American composers, facsimile editions of rare historical scores, and unique transcriptions of pieces from the classical repertoire. Selected NSM publications are offered as professionally-printed hard copy versions, and most of NSM's catalog listings are available as convenient pdf downloads from the NSM website (www.NoteworthySheetMusic.com).
Noteworthy Sheet Music has just published a new edition of the well-known song Ecstasy by Amy Beach, in time to celebrate the 150th anniversary of the composer's birth. A concert pianist of world renown, Amy Marcy Cheney Beach (1867-1944) was among the most skillful composers of her generation. Ecstasy (Op.19, No.2), which is a musical setting of Mrs. Beach's own poem, was composed in 1892. The idea to make Ecstasy available to a broader combination of players and singers came from Peter H. Bloom, concertizing flutist and NSM editorial consultant, who proposed that the piece would be an excellent vehicle with which instructors might inform students (early and advanced alike) about interpretation of the highly romantic late 19th century idiom. To that end, NSM has packaged together in a single edition Mrs. H. H. A. Beach's two versions of Ecstasy, "low voice (in Db)" and "high voice (in Eb)", with each version including transcriptions of the original violin obbligato for either alto flute in G or clarinet in Bb. The publication also includes an alternative solo part in the form of an alto flute transcription of the voice line. Thus, multiple performance variations are possible, including male or female (high or low) voice and piano with either alto flute or clarinet obbligato, or fully instrumental versions for alto flute and piano, or two alto flutes and piano, or alto flute, clarinet, and piano.
"Ecstasy" is available as a downloadable PDF accessed from the NSM website at https://www.noteworthysheetmusic.com/score-descriptions/5…. The webpage also provides a link to a free preview page of the score.
Visit www.NoteworthySheetMusic.com for additional information about the new release mentioned above and other NSM editions. New sheet music selections are uploaded often, along with preview pages, contributing composer biographies, useful links, reviews and articles.
Source :
Noteworthy Sheet Music, LLC