Mt. Auburn OBGYN Expands Birthing Services at The Christ Hospital Medical Center – Liberty Township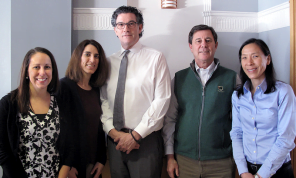 Press Release (ePRNews.com) - CINCINNATI - Mar 29, 2018 - Mt. Auburn OBGYN, a practice that has served women in Cincinnati for 80 years, announced today that its doctors are providing labor and delivery services at The Christ Hospital Medical Center – Liberty Township. This addition brings the practice's services closer to residents of Northern Hamilton, Warren and Butler Counties, including Mason, West Chester, Montgomery and the Austin Boulevard area.
The new facility is available for patients from any of the practice's three locations: Mason, Montgomery and Mt. Auburn. Doctors from the practice are participating in the maternity care center as part of the facility's laborist model, which provides a 24/7 obstetrician presence to reduce complications from labor and delivery emergencies.
"Offering a new hospital for our patients to receive labor and delivery services is another aspect of our commitment to provide the most compassionate, patient-focused care possible," said Dr. Wendel, obstetrician and gynecologist, Mt. Auburn OBGYN. "Our patient base has grown in Mason and West Chester, and we are happy to be able to provide birthing services at a location near them."
In addition to the laborist model, another notable difference at the Family Birthing Center is that treatment is given in state of the art, boutique-like environment. Some of the facility's features include:
Single-room care in one of nine LDRP (labor, delivery, recovery, and post-partum) rooms with kitchenette
Four private, special care nursery rooms
Two dedicated Cesarean section (C-Section) birthing rooms
Gentle C-Section
The region's only Cesarean section viewing room, allowing families to be in a room adjacent to the operating room, and watch a planned C-section through a window with prior permission from the doctor
Hydrotherapy and extra-large showers with seats for moms planning a natural childbirth
Inpatient and outpatient lactation services
Room-service style nutrition service
Mt. Auburn doctors who are on staff as part of the laborist model include Dr. Cirasole, Dr. Fitzgerald, Dr. Roberts, Dr. Wendel and Dr. Wiebracht, and the practice continues to provide obstetrics services at each of its locations. The doctors' work at the new facility furthers Mt. Auburn's commitment to patients North of the I-275 beltway, which began in 1978 with the opening of its Mason office.
Mt. Auburn OBGYN has been dedicated to providing the highest level of women's health care since 1938. Learn more about the practice, its doctors and its services at www.mtauburnobgyn.com.
About Mt. Auburn OBGYN
For generations, women in Greater Cincinnati have trusted Mt. Auburn OBGYN with their healthcare needs. Whether a woman is seeking guidance during pregnancy, coming in for a yearly check-up or needing surgical treatments for a variety of gynecologic conditions, the practice's team of physicians, nurses and supporting office staff delivers attentive service catered to her individual needs. Mt. Auburn empowers women through up-to-date, superior care, state of the art clinical facilities and health education. A patient's physical and emotional needs are equally important, and the practice takes both into account to create a compassionate, comfortable environment.
Source :
Mt. Auburn OBGYN

Business Info :
Mt. Auburn OBGYN
United States