NASA selects Barnhart to handle pathfinder movement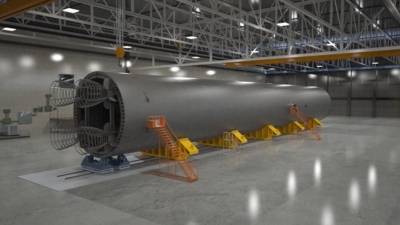 Press Release (ePRNews.com) - MEMPHIS, Tenn. - Feb 20, 2017 - NASA has selected Barnhart Crane & Rigging Co. to provide transportation of a mockup of the core stage of the agency's most powerful rocket for deep-space missions, the Space Launch System (SLS).
Designed by engineers at NASA's Marshall Space Flight Center in Huntsville, Ala., the simulated core stage of the new rocket will measure 213 feet in length and weigh 230,000 pounds. Memphis-based Barnhart will transport the mockup from its final assembly point at the G&G Steel plant in Cordova, Ala., to NASA's Michoud Assembly Facility in New Orleans by barge.
Shane Carpenter, engineering lead on the core stage pathfinder project at Marshall, said, "We don't want the first time we transport the core stage to be with flight hardware. That's why having a pathfinder is critical to the program." The core stage transported by Barnhart will be a steel shell containing no engine or avionics.
David Adcock, Stages pathfinder project lead at Marshall, said that NASA looks forward to working with Barnhart, G&G and other selected service providers "on such an important project for SLS."
Barnhart's Jeff Latture, senior vice president of sales and marketing, said that an overhead crane will be employed at G&G to load the core stage onto a 200 by 35-foot Barnhart deck barge that will be utilized in conjunction with a 250 by 50-foot Canal deck barge. Barnhart will use standard Goldhofer transporters to offload the component at Michoud. Barnhart is unique among crane, rigging and logistics companies in that it maintains its own barge fleet.
Expected load-out and transport date of the pathfinder is sometime in March 2017. The inaugural flight of the SLS, the most powerful rocket ever built, is anticipated in late 2018.
According to Evan Bradley, project manager at Barnhart's Baton Rouge, La., office, the company has handled several jobs for NASA in the past. "One of our recent jobs entailed moving one of the platforms for the pathfinder at the Stennis Space Center. Because of its high center of gravity, it was a tricky move. We lifted and moved the platform without incident," Bradley said.
Barnhart is one of America's leading lifting and logistics contractors. With a current network of nearly 40 facilities, Barnhart provides world-class service through a local presence. Operated crane rental, rigging services, outage planning, specialized solutions for component replacement, industrial storage and national project cargo logistics all combine to ensure Barnhart's customers receive the lowest total project cost. Barnhart also boasts one of the largest engineering teams in the industry – including a full R&D department – driving innovation across all services. Barnhart is a U.S. company headquartered in Memphis, Tenn.
For more, visit http://www.barnhartcrane.com
Cutline for attached photo: Barnhart has been selected by NASA to handle transport of a mockup of the Space Launch System's core stage from its assembly site in Alabama to NASA's Michoud Assembly site in New Orleans. Photo courtesy of NASA.
Source :
Barnhart Crane & Rigging Co.