New BIM Contracting Software Released by Plannerly (The BIM Management Platform)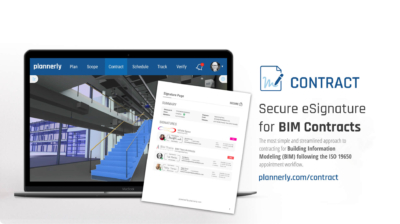 Press Release (ePRNews.com) - IRVINE, Calif. - Mar 01, 2021 - The AECO (Architecture, Engineering, Construction and Owner) industry runs on contracts however critical BIM Execution Planning (BEP) requirements do not always form part of the legal project agreements. 
Now with just a few clicks, the new BIM contracting module (by Plannerly) helps teams prepare, agree and act on their BIM contracts all within a simple and integrated workflow.
Plannerly has optimized many of the important ISO 19650 Information Management steps and now adds a new module to simplify BIM contracting. 
The contract creation process can use client, company, or globally known standards such as the ISO 19650standards.
In a recent ISO 19650 webinar series Plannerly shares that the results are higher levels of collaboration, more efficient BIM teams and much happier clients.
Clive Jordan, Co-founder and CEO at Plannerly says: "eSignature is trusted by hundreds of millions of people worldwide and more than half of eSignature transactions are completed in less than 24 hours – compared to days or weeks for traditional methods! We thought that this approach would combine nicely with the BIM planning, management and compliance workflow already inside Plannerly."
Clive continues to say "The team has been working so hard on our mission to make the boring administration parts of our industry's digital transformation simple! Today adding eSignature into the integrated workflow marks another major milestone for teams to be able to contract for BIM in the most simple way possible."
See the new features announced HERE: https://www.plannerly.com/contract
About Plannerly:
Plannerly simplifies BIM management by consolidating standards, modeling requirements, project tracking and BIM compliance. Plannerly is The BIM Management Platform for all project stakeholders to co-create, review, comment, approve and contract to BIM Execution Plans (BEPs); define, agree on and assign scope; monitor progress, verify deliverables – all in one dedicated online application. A simple drag and drop user interface makes Plannerly easy to use and even fun! 
Follow Plannerly updates on social media here: 
– LinkedIn: https://www.linkedin.com/company/plannerly
– Twitter: https://twitter.com/plannerlyaec 
Plannerly Media Contacts
For UK, Europe, Middle East, Africa: akos@plannerly.com 
For North America: laura@plannerly.com 
For: Latin America: louie@plannerly.com
Source :
Plannerly

Business Info :
Plannerly.com
3333 Michelson Dr, Suite 300 (Suite 300)
Irvine, CA 92612