NEW BOOK RELEASE — "How to Train Your Dog to Use a Litter Box: Here's the Poop"
The inventor of the GracieLoo Dog Litter Box calls on her 20+ years of experience as a dog trainer to inform the writing of her recently published book.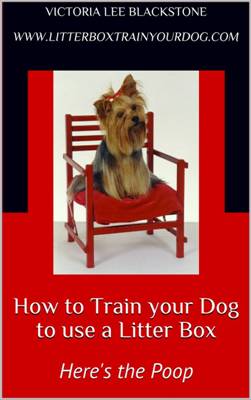 Press Release (ePRNews.com) - ATLANTA - Jun 27, 2017 - In 1995, after a fatal accident claimed the life of her Yorkie, Lucy, Victoria Lee Blackstone invented the GracieLoo. This unconventional dog litter box was originally designed to keep Gracie, Blackstone's newly adopted Yorkie, safely indoors. But when she realized how the GracieLoo could help other dogs, Blackstone founded Gracie & Co. in Atlanta, GA, and began marketing her invention.
How To Train Your Dog to Use a Litter Box: Here's the Poop had its origins in a training manual that Blackstone included with each GracieLoo purchase. Her new book expands the concise content of the training manual to a comprehensive overview of dog litterbox-training. Readers are guided by Blackstone's expertise in this training niche as well as her willingness to share specific details to help them fine-tune their efforts.
One book reviewer writes: "Great idea to train dogs like this! Very easy to follow … step-by-step instructions to be successful."
Blackstone's book addresses the problems that are solved by training a small dog to use an indoor potty, such as:
• Being away from home all day (long days at the office) when you're unable to let the dog outside.
• Cold weather (ice and snow) are not ideal for a small dog's outside potty breaks.
• Rainy weather leaves small dogs soaking wet with muddy paws, which can stain your carpeting and furniture.
• No morning sleep-in time on weekends because of having to get up and walk the dog.
• Dangers lurk outside for small dogs, including: aggressive larger dogs, birds of prey, alligators, snakes and even insect stings.
• Some senior-citizen dogs lose bladder control as they age and simply can't "hold it" for long periods.
Chapter Topics:
1. Benefits of Training a Dog to Use a Litter Box
2. Styles of Dog Litter Boxes
3. Litter Choices
4. The Three Ps and the Three Nevers
5. My Unconventional Crate-Training Method
6. Step-by-Step Training
7. Training Tips
8. Sample Training Schedule
9. Different Ages and Life Stages
10. Meet the "Boss"
The author also includes a bonus section in her book titled: "My Handicapped Dog — 10 Lessons She Taught Me."
Read an excerpt from Blackstone's book on Amazon with a purchasing link at: http://amzn.to/2ogy9iL
Source :
Gracie & Co.