New General Manager Announces Completion Of Streamlined Survitec Zodiac Factory Layout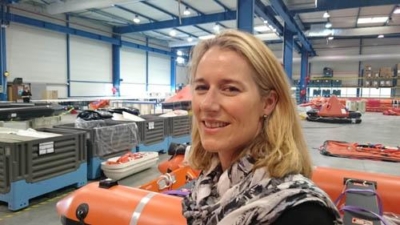 Press Release (ePRNews.com) - CHEVANCEAUX, France - Jun 14, 2016 - Located in the heart of France's cognac-growing region, the factory is the principal manufacturer of large escape slides and life rafts for Survitec Group. Nadia Delaoutre-Pollato was promoted to the position of general manager from her post as financial director and is now responsible for an important element in the Survitec Group's product portfolio.
Under the direct supervision of plant manager Francois Dureau, the revisions to the factory's operation were initiated to enable it to operate with just-in-time manufacturing techniques. These are already enabling cost savings and production improvements relating to productivity and quality to be achieved.
"These changes will ultimately benefit the customer and the company alike," said Nadia Delaoutre-Pollato. "The new factory layout is more efficient which means that our productivity improves as well as our product quality. Every time there is an interruption to our production it adds something to our costs and eventually those costs affect the prices we must charge our customers. By using just-in-time production our output becomes better streamlined while also reducing our operating costs. This gives us closer control over our long-term pricing and our customers benefit from this along with the reassurance that comes from knowing that their purchases are of the highest quality."
The SurvitecZodiac factory at Chevanceaux is one of the most modern in Survitec group and covers a working area of 6500 sq metres and employs around 90 people skilled in the craft of liferaft and escape slide manufacture. The company uses a number of unique cutting and manufacturing tools that it has developed to meet its own specialised requirements. It features floor areas that can be raised or lowered to assist with production and it is also capable of lifting and manoeuvring very large inflated liferafts and escape slides that may be more than 20 metres long. The factory is also equipped for conducting high and low temperature testing of new products and for the handling and safe storage of high pressure gases. The medical supplies that are installed aboard the company's liferafts also need specialised storage and control which adds to the broad and complex demands on management at the Chevanceaux factory.
Despite the factory being located in the Cognac region of France where summer temperatures can often be extreme, the entire workshop area is temperature and humidity controlled to ensure worker comfort and to maintain the correct curing temperature for the adhesives used in liferaft manufacture. This benefits customers further by ensuring that quality is guaranteed and by avoiding production and delivery delays that might be caused by extreme temperatures bringing output to a standstill.
Survitec Group is a leading innovator in rescue system technology and its product portfolio includes some of the most reputable brands in the safety and survival equipment industry. Key products within Survitec Group include marine, defence and aviation liferafts, escape slides and world-leading submarine escape technology. The company also manufactures lifejackets for commercial airlines and the offshore industry as well as pilot flight equipment including anti-g clothing used for the Eurofighter and JSF programmes.
The entire Survitec Group employs approximately 2,000 people across eight manufacturing sites and 50 service centre locations with a further global service and distribution network of over 550 dealers and agents. Each manufacturing facility employs a dedicated research and development team that continuously works to improve every product and establish or maintain a lead within its own market sector.
-ENDS-
Press Enquiries
Christopher Burrows
Group Marketing & Communications, Survitec Group
Tel: +44 (0)74 4249 1932
Email Christopher.Burrows@survitecgroup.com /
Survitec Group Limited, Registered and Head Office
1-5 Beaufort Road
Birkenhead, Merseyside, England, CH41 1HQ
Tel: +44 (0)23 8030 2020
Fax: +44 (0)23 8030 2177
Company Number: 905173
Place of Registration: England & Wales
Source :
SurvitecZodiac