New Hampshire law firm awards two college scholarships
The New Hampshire personal injury law firm of Manning & Zimmerman has awarded two $1,000 college scholarships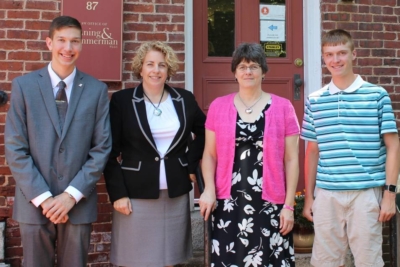 Press Release (ePRNews.com) - MANCHESTER, N.H. - Aug 11, 2017 - The Law Office of Manning & Zimmerman is pleased to announce that it has awarded $1,000 scholarships to two New Hampshire students who will be enrolling in college in September.
According to Attorney Maureen Raiche Manning, "Following the submission of a tremendous number of applications from throughout New Hampshire, the firm carefully considered each entry. We were pleased to select essays submitted by Austin Woodward of Groveton and Shane Coughlin of Hudson, each of which displayed a depth of knowledge of the 7th Amendment to the United States Constitution and the importance of every American citizen's right to a trial by jury." Austin will study Athletic Training at Colby-Sawyer College in New London, New Hampshire, and Shane will study Political Science at St. Michael's College in Colchester, Vermont.
About Manning Zimmerman Law (http://www.manningzimmermanlaw.com): The New Hampshire personal injury attorneys at Manning & Zimmerman have a combined total of more than 50 years representing those who have been injured through no fault of their own. Maureen Raiche Manning is joined in the practice of law by Anna Goulet Zimmerman. Both attorneys Manning and Zimmerman are past presidents of the New Hampshire Association for Justice, a statewide professional association of trial attorneys working to protect constitutional rights and ensure that people have a fair chance to receive justice through the legal system when they have been harmed by the acts of others.
About the 7th Amendment scholarship program: Attorneys Manning and Zimmerman are staunch defenders of each citizen's right to a trial by a jury of their peers. They instituted their annual 7th Amendment college scholarship program to ensure that young people understand this important right guaranteed to every citizen in the United States Constitution, and to provide financial assistance to New Hampshire students pursuing a higher education.
Source :
Law Office of Manning & Zimmerman, PLLC