New sales manager is proud owner of Davidsons home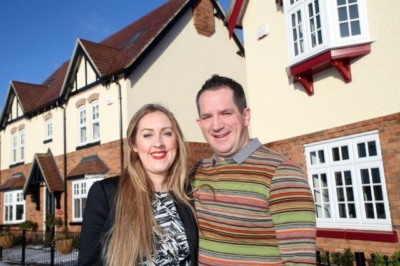 Press Release (ePRNews.com) - BURTON ON TRENT, England - Feb 08, 2017 - Sara Vracko fell in love with Davidsons when she saw some of the homes on their website.
Having visited a development, the real thing convinced her to move to one. Sara said "We were thinking of moving but the Davidsons homes were some way from where we were living. However, I was so taken with the homes that I had to visit and just loved them. Fortunately, both myself and my husband, Primoz, are used to a bit of commuting so location wasn't an issue. We decided a Davidsons home was for us and we part exchanged our existing home, which made things easy".
Sara continued, "Having moved it was everything we had hoped for – great looking, lots of excellent features and really well designed living spaces. Now I've joined the company. Owning a Davidsons home made me want to work for them – I feel so passionately about the houses.I'm currently working at the Ashby development but will become sales manager at the new Burton development when it opens soon. I can honestly recommend a Davidsons home to our visitors and I'm looking forward to the new role".
Stephanie King, sales director at Davidsons, said "It's great to have a satisfied Davidsons homeowner on the sales team. We are delighted to welcome Sara to the company – we can't have a better advocate for our homes."
Davidsons currently have a number of developments across Leicestershire and other areas of the Midlands. For more information visit: www.davidsonsgroup.co.uk
Source :
Davidsons Homes