New West Wing of Penticton Lakeside Resort Is Now Open To The Public
The new West Wing of the Penticton Lakeside Resort opened to the public on June 23rd , and features 70 additional rooms, 20 of which are suites. The trademarks of the expansion are mass timber construction and large balconies, one of the leading building types of its generation in North America. Most of the rooms have a view of Okanagan Lake.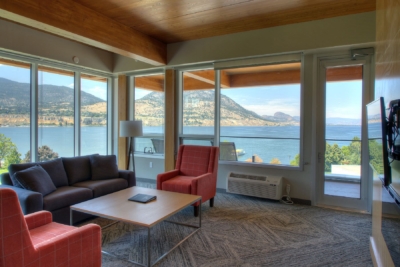 Press Release (ePRNews.com) - PENTICTON, British Columbia - Aug 02, 2017 - Designed by CEI Architecture, and built by Greyback Construction, great care was taken to emphasize and highlight the wood structure and finishing of the building, that completes its design and structural integrity. Large amounts of wood are featured on exposed ceilings, and panels that separate the units on the deck, as well as throughout interior corridors, and the grand atrium and staircase, which connects the central lobby with the 2nd floor open foyer. The attention to detail and the consideration taken to showcase the use of the wood makes this building a truly world-class facility.
The construction of the expansion incorporated innovative mass timber and cross-laminated panels, a technology that happens to be locally available through laminated timber manufacturer Structurlam, located in Penticton and Okanagan Falls, and one of three manufacturers of CLT timber panels in North America. The Lakeside Resort is very proud to be spearheading this iconic way of building, not just within the South Okanagan, however more significantly, on the world stage. This new construction technology – heavy timber construction – was primarily developed in Europe, and now offers greater opportunities for wood, especially cross-laminated or CLT timber panels worldwide. Building multi-storey wood buildings is not a completely new concept, while multi-storey wood buildings in Europe, such as the 12th century Borgund Stave in Norway, have been around for hundreds of years and are still very much relevant today.
Likewise, wood construction promotes wood as the primary and key building material, while bringing awareness to the organization's carbon footprint. Wood provides less of an environmental footprint than a concrete or steel building, while half of Wood's composition is made of carbon, which remains in the material rather than being liberated into the atmosphere. The Penticton Lakeside's West Wing, as wood construction, will therefore, save the equivalent of approximately 1,000 vehicles emitting carbon for one year. Moreover, all the wood supplied for the project was sourced from certified sustainably managed forests. Great pains were taken during the construction to mitigate environmental impacts and exceed environmental regulations. Sustainable building practises such as this also have a foot in practicality, as it allows for a quicker build than traditional concrete structures. In support of this new initiative, the B.C. government has adopted a wood first policy, encouraging the construction of larger buildings out of wood, such as the Penticton Lakeside's West Wing and Brock Commons at UBC, Vancouver.
Source :
New Media Sources