Noted Marketing Professional Launches The SEO Queen Virtual Summit
Accomplished and Certified Digital Marketing expert Zhe L. Scott expands her company's offerings and announces The SEO Queen Virtual Marketing Summit. Registration for this all day event is free.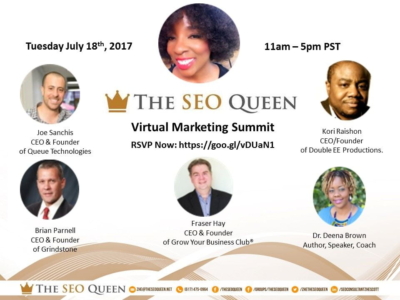 Press Release (ePRNews.com) - LONG BEACH, Calif. - Jul 12, 2017 - Experienced digital marketing, social media, and search engine optimization professional Zhe L. Scott recently announced the event: The Seo Queen Virtual Marketing Summit. On July 18th, 2017 from 11am – 5pm experts on the topics of viral growth marketing, telemarketing, video marketing, business strategy, brand and content strategy will be presenting cutting edge strategies that noted brands such as Neil Patel and other Fortune 500 companies are currently using to shore up their marketing. The very best strategies and techniques will be shared with all who register and attend this Virtual Marketing Summit. Registration is free.
Zhe is excited to present Joe Sanchis, Brian Parnell, Fraser Hay, Kori Raishon, and Dr. Deena Brown to the world in the July 18th , 2017 Summit because they get results, and have gotten results year after year after year. Zhe also adds: "all business professionals who attend this virtual summit will be able to ask questions and get answers from marketing technology and strategy experts. This summit is especially timely since DMOZ has closed down and Danny Sullivan is retiring from the search industry. This is a great forum to discuss what's next and how to continue to grow and shore up visibility online." To register and learn more about Zhe and the presenters, visit https://www.theseoqueen.net/virtual-summit/
The SEO Queen offers a complete range of brand building and digital marketing services for clients including website design, social media marketing, search engine optimization (SEO), paid ad management, digital marketing classes, email marketing and more. Amazon SEO and Shopify SEO are also available. As the founder of TSQ Marketing Inc, the parent company of The Seo Queen, Zhe is happy that her team is working so hard to bring quality business programming to the world. You can also download her eBook: 101 Ways to improve your Marketing and Sales just visit https://www.theseoqueen.net/contact-seo-queen/
About:
Zhelinrentice L. "Zhe" Scott is HubSpot and Google AdWords and Analytics Certified. Her passion is assisting companies build online brands. Over 200 companies have generated millions of dollars in revenue when Zhelinrentice "Zhe" Scott has managed their digital marketing initiatives. With an artistic flair, solid technical background and expertise Zhe blends her experience to successfully earn the respect of her peers and clients in the challenging field of digital marketing.
For More Information:
The SEO Queen
1056 Island Avenue
Wilmington, California 90744
United States
Source :
TSQ Marketing Inc