Nu-Life Air Conditioning Becomes Leading Provider in Sydney and its suburbs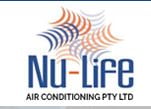 Press Release (ePRNews.com) - Alexandria NSW - Jun 22, 2020 - Having experienced expanded gradually in sales across Sydney's neighbourhoods, Nu-Life Air Conditioning is now rightly considered the city's leading provider of air conditioning services.
Nu-Life Air Conditioning is proud to have become a popular choice among commercial and residential clients because of its dedication to customer service, hassle-free installations and quality brand reverse air conditioning systems and equipment.
Whether you require split, multi-split systems, ducted systems, VRV systems and mechanical ventilation systems, Nu-Life Air Conditioning can offer 30 years' experience in finding the right system for your home or business.
And they can offer the best in brand as they have partnered with leading ducted air conditioning manufacturers in the industry, such as Daikin. Samsung, Mitsubishi, Gree and ActronAir.
"Our commitment is to provide first-rate air conditioning solutions and customer service to all clients," confirmed a Nu-Way Air Conditioning spokesperson.
"We pride ourselves in offering tailored solutions to meet all air conditioning needs. Clients receive the best in personal attention that a job deserves, no matter how big or small."
With Nu-Life Air Conditioning, you can rest assured that help is never far away as they offer regular check-up and ongoing maintenance for optimal product operation.
"Our employees are knowledgeable, professional and helpful. Proper installation by a qualified technician is vital, and our staff are fully qualified refrigeration mechanics with vast amounts of industry experience."
They also offer a low cost, well-managed preventative maintenance regime vital to maximise the life, performance and efficiency of any air conditioning system. The spokesman added:
"Our business software is designed and automated to deal with a client's routine maintenance schedule, so they don't have to."
The company also stocks many innovative products, such as the Opal Smart Temperature Control, Inpack Package Units and Horizontal and Vertical Water Sourced Packaged Unit.
Their five guarantees to any client: a free on-site quote; they are fully licensed and insured; quality workmanship; value-added services, and five years' manufacturers' warranty.
For a free quote, call 02 9699 6629 or 02 9699 6135, or email: info@nulifeair.com.au. For their complete portfolio of services: view their website: https://www.nulifeair.com.au/.