Oakam celebrates 10th anniversary by paying off a customer's loan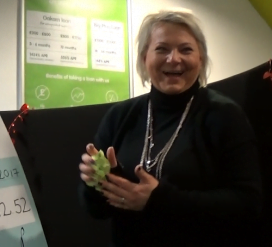 Press Release (ePRNews.com) - WESTMINSTER, England - Feb 22, 2017 - On Valentine's day, Oakam, a thriving UK based fintech lender, marked 10 years of trading in its Walthamstow store. To celebrate, one lucky customer was selected and her loan debt was paid off in full!
Oakam was founded by CEO, Frederic Nze after he recognised a need to help those without a bank account to access credit in the UK. Oakam started to trade on the 14th of February 2007 when their first store opened in Walthamstow; now the oldest of their 19 stores across London and the Midlands.
To celebrate a decade of trading at Walthamstow, Marzena, a lucky Oakam customer was handed a large cheque, which paid off her £1,612.52 loan debt. When handing over the cheque, James Webber, Oakam's Head of Retail Officer explained to the customer that she no longer needed to make weekly repayments because her debt with Oakam had been paid off. James says, "We're really happy to have helped Marzena to pay of her debt. Now she is free from her loan instalment, she can focus on supporting her family whilst building her hairdressing business."
Oakam's Walthamstow store has served over a whopping 20,000 customers since it began trading in 2007. During this time, over 4 million pounds has been lent to 116 different nationalities in the local community.
Oakam will continue to celebrate their 10th anniversary by surprising more customers over the course of the year. Frederic Nze, CEO and founder of Oakam says, "Walthamstow was where it all started for Oakam and we are really happy to be celebrating this milestone with customers. We look forward to serving the local community for many years to come!"
For more information visit: https://www.oakam.com/en/company/press/oakam-pays-off-a-c…
Source :
Oakam Ltd

Business Info :
Oakam
Oakam Ltd, 3rd floor, 172 Tottenham Court Road, Central London,
W1T 7NS England
Phone: +448452584611
Website:
http://www.oakam.com