OliX Pharmaceuticals Designates Guangzhou RiboBio a Preferred Oligonucleotide Manufacturer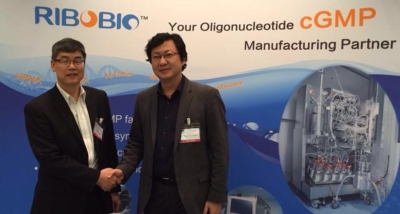 Press Release (ePRNews.com) - GEUM CHUN GU, South Korea - Feb 26, 2017 - OliX Pharmaceuticals, Inc., the leading RNAi therapeutics biotech in Asia, has designated Guangzhou RiboBio, Inc. a preferred manufacturer of its oligonucleotides. OliX has developed a proprietary RNAi (RNA interference) technology platform, identified numerous candidate drugs for diverse diseases, and is advancing several therapeutic programs from discovery to late pre-clinical and early clinical development stages. RiboBio has been a leading provider of oligonucleotide-based reagents and services in Asia for the past ten years. Recently, RiboBio added the cGMP capability to its oligonucleotide manufacturing facility.
"OliX's experience with RiboBio during the past year has been excellent, and we look forward to expanding our relationship into clinical-grade products," commented Dmitry Samarsky, OliX's Senior Vice President of Technology & Global Business Development.
RiboBio earned preferred status with OliX in acknowledgement of its high product quality, reliability of delivery, outstanding service and overall competitive value. "We are glad to be recognized by OliX as an outstanding manufacturer and supplier of oligonucleotides. We intend to expand our manufacturing offerings and services to OliX on a preferential basis," commented Darko Hrgetic, the Head of the RiboBio's cGMP Manufacturing. The Presidents and CEOs of both companies – Biliang Zhang (RiboBio) and Dong-ki Lee (OliX) – are enthusiastic about strengthening the relationship between the companies.
About OliX
OliX Pharmaceuticals, Inc. is a biopharmaceutical company developing therapeutics against a variety of disorders based on RNAi (RNA interference), a ground-breaking technology that allows down-regulation of disease-causing genes. To address the challenges of oligonucleotide drug delivery and safety, OliX focuses on the development of therapeutics that can be applied using local administration routes (i.e., directly) to treat skin, eye, lung and CNS disorders.
About RiboBio
RiboBio Co. Ltd. is a biotechnology company with an established comprehensive oligonucleotide manufacturing facility. Equipped with state-of-the-art instrumentation and technologies, it supports small to large scale, low to high throughput, and cGMP production of oligonucleotides for any purpose. RiboBio offers innovative DNA/RNA, RNAi and miRNA products, as well as a wide range of oligonucleotide-based research services, including RNAi/miRNA functional studies, high-content high-throughput RNAi and small molecule screens, mRNA and miRNA microarray analysis, pre-clinical formal animal studies and CMC analysis.
Contacts
Lee, Jung Hwan
+82 70-4673-3412
jhlee@olixpharma.com
Strategic Business Management
OliX Pharmaceuticals, Inc.
Korea
Yang, Xiuqun
+86 (20) 3229 0075, ext. 657
xiuqun.yang@ribobio.com
Project Management
Guangzhou RiboBio, Ltd.
China
Source :
OliX Pharmaceuticals, Inc., RiboBio Co. Ltd.